The full name of ISIS is Intermediate System to Intermediate System, which was first developed by ISO 10589. Based on ISO CLNS (ConnectionLess-mode Network Services), IP was added in RFC1195.
BOTH ISIS and OSPF are link-state routing protocols that support SPF fast convergence. Why do carriers prefer ISIS?
Typical networking topologies of OSPF and IS-IS
I think there are several reasons:
1. Stability
ISIS is based on CLNS, that is, it runs at the link layer. In this way, even if the IP layer is faulty, the Layer 2 communication is not interrupted.  OSPF runs at the IP layer with the protocol number of 89. Encapsulation in IP means that OSPF packets can be attacked by IP packets spoofing and denial of service (DoS) attacks.
2.  Scalability:
In ISIS, all routing information is transmitted using TLVs (TYPE/LENGTH/VALUE), ensuring simple structure and providing easy scalability. For example, to support IPv6, only two TLVs are added to ISIS. Additionally, ISIS also supports protocols such as IPX. OSPF is developed to support IP and provides two independent versions OSPFv2 and OPPFv3 to support IPv4 and IPv6.
3.    Complexity
a. All non-backbone areas of OSPF must be interconnected with the backbone AREA 0. ISIS areas are classified into level1 and level2, the backbone area of ISIS is relatively flexible.
This means you don't have to worry about achieving the perfect physical layout, and you can more freely implement physical connections.
b. There are many types of OSPF LSAs, and the database structure is complex. Therefore, fault locating is difficult. ISIS has few types of LSPs, the database structure is simple, resource usage is low, and faults can be easily located.
c. When ISIS is configured, Hello interval" and "router dead interval" do not need to be matched between routers, and OSPF must be set to the same value.
d. The ISIS router can belong to only one area, and the OSPF router can connect to more than two areas. In management, this increases the complexity of OSPF.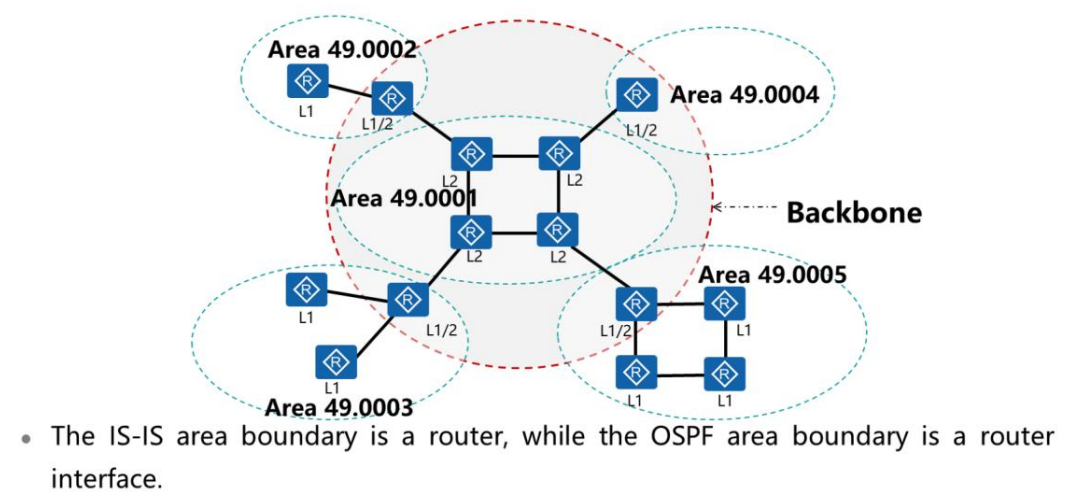 4. convergence
In ISIS, when changes occur on the network segment where a node in an area resides, PRC algorithm is triggered, ensuring fast route convergence and low route calculation cost, In OSPF, network address is used for building the network topology, and ISPF algorithm is triggered when the network segment address in an is changed, which is complicated.
When the network scale is large, the convergence speed of ISIS is much faster than that of OSPF.
5. Scale
ISIS supports a larger network architecture and a more stable network. The number of ISIS single-domain nodes can be greater.
As I know, the world's top running ISIS has more than 500 devices in a single domain, and OSPF can be configured to 350.
This is why ISPs choose to use ISIS. OSPF also has many advantages. Compared with ISIS, OSPF is more flexible and adapts to the complex network environment of enterprise networks. In fact, many carriers' non-backbone networks, such as the bearer network and MAN, use OSPF. The selection of different protocols depends on the actual requirements.
This just a personal understanding. You are welcome to express your views.
Thanks.