Hey there! This is a case about  network is disconnected after the host is restarted
【Problem Description】
On Sunday night, the memory of a host is expanded. After the capacity expansion, a VM on the host can obtain an IP address, but the network is disconnected. 
【Problem Analysis】
1.  Check the network according to the maintenance manual. It is found that data packets can be captured on the trunk port of the host.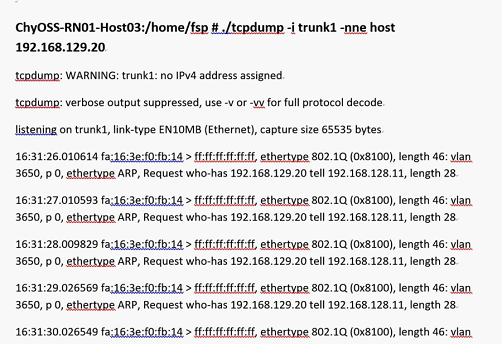 2.  The networking mode of the live network is LACP.
3. Run the cat /usr/bin/ports_info | python -mjson.tool command to query the physical NICs used by physnet2. The physical NICs are eth8 and eth9.
4. Packets can be captured on port eth9.

Note: If packets can be captured on a network adapter, the network is normal.
5. Check the driver used by the NIC.
X710
driver: i40e
version: 2.3.6
firmware-version: 6.01 0x800039cb 1.1927.0
expansion-rom-version:
The server type is RH2288V5
6. Upgrade the driver and the problem is no exit
Driver packet:NIC-X710_X722_XL710_XXV710-CentOS7.3-i40e-2.7.12-1-x86_64.rpm
Except for the technical cases, we also have a lot of interesting activities, come and join us!