What are the main differences between 4G and 5G?
From business point of view:
1.   4G focuses on voice and data in 2B and 2C markets. 5G, besides voice and data, supports industry applications as well to enable intelligent society. These applications are categorized into ultra-reliable low latency service and massive connectivity service.
2.   From frequency point of view, 4G frequencies and bandwidth are lower than 3GHz and 20MHz. 5G frequencies are ‐band, 3-6GHz and mmWave 26-28GHz. 5G bandwidth for C‐band and mmWave are 100‐200 MHz and 800 MHz.
3.   From architecture point of view, the architecture of 4G is flat and fixed for each layer. Mainly 2T2R or 4T4R AAU. 5G architecture can be distributed or centralized according to network requirement. Majority of Massive MIMO are 64T64R and 32T32R.
4.   From performance point of view, 5G are 10x better than 4G in terms of latency, peak data rate and connection density. UE mobility speed is up to 500 Km/hr.
5.   From terminal point of view, 4G devices are mainly smartphones and CPE. 5G devices are smartphones, CPE and various IoT devices.
What is the difference between 5G and 4G if there is no Massive‐MIMO? Is there any improvement in spectrum efficiency?
1.    The guard band of filtered‐OFDM and OFDM are 2% and 10% respectively. So the improvement is 8%.
2.    The control channel and user channel can be shared in 5G. The improvement is about 5%
3.    With Slot Aggregation, only the first slot contains downlink control signal, the rest of the slots just carry downlink user data. So the improvement is about 5%. How many slots can be aggregated depends on channel quality.
4.    There is no CRS (cell special reference signal) in 5G. But 5G adds 4 DMRS (Demodulation Reference Signals). So the net gain is 14.7‐5.9=8.8%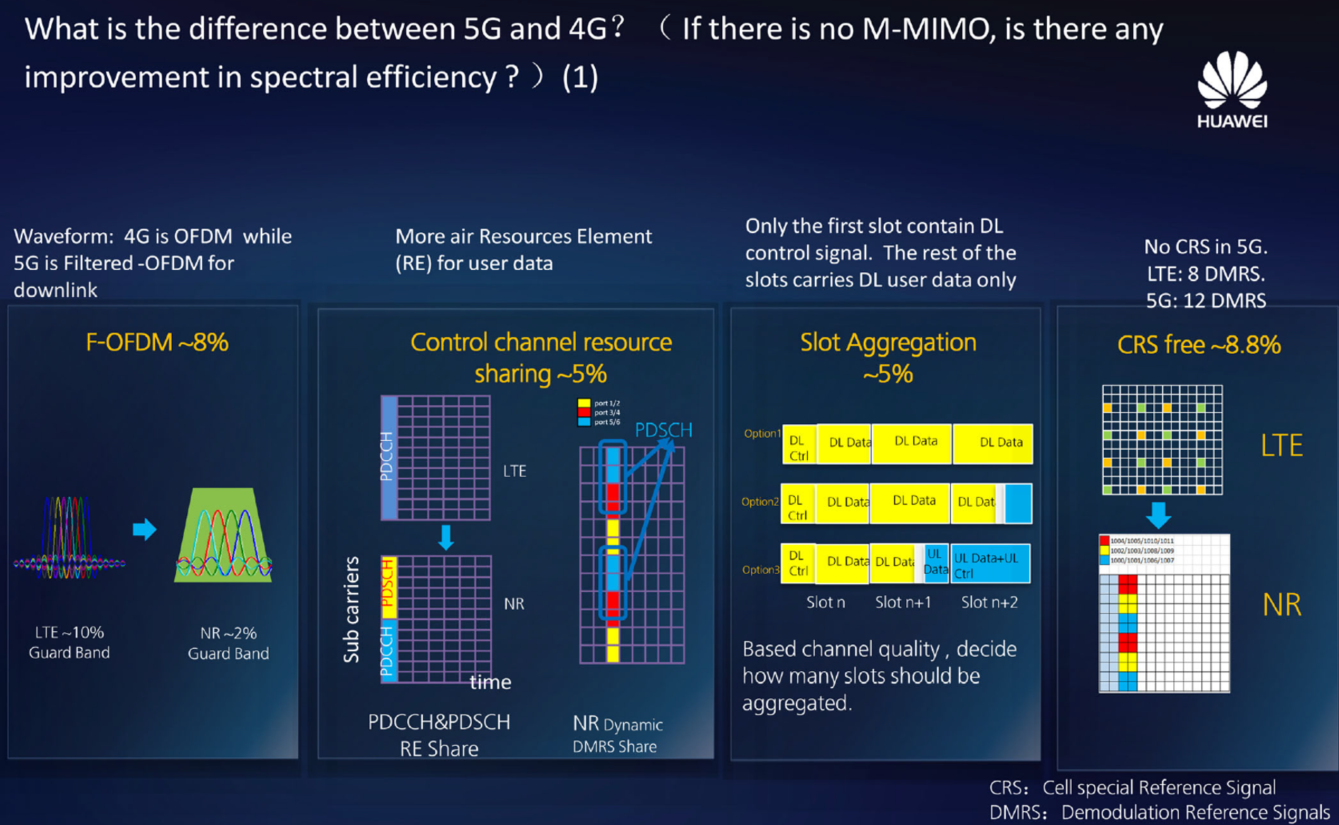 Another capacity gain is from UE pairing or spatial multiplexing.
When UE is closed to base station, the UL channel quality is measured by Sounding Reference Signal (SRS) and gNodeB decides the DL weighting vector. When UE is at the cell edge, CSI‐RS is used to measure the DL channel quality and UE offers feedback of the Precoding Matrix Indicator (PMI). The result will be used for generating orthogonal weight for each user data stream and DMRS. The weighted user data streams and DMRSs are transmitted by base station antenna. So we can realize using the same frequency and time to send different user data streams. We call it SRS and CSI‐RS UE hybrid pairing.
The gNodeB determines UE pairing and the number of layers for each UE. In this way, spectrum efficiency of downlink transmission is improved by 10‐25%.
The overall spectrum efficiency improvement is about 40% for 4T4R. The breakdown are shown in the table. The protocol enhancement is contributed by f‐OFDM, no CRS, less PDCCH overhead, controlled channel resource sharing and slot aggregation. The spatial multiplexing is contributed by hybrid pairing.