[Fault type]: The VM network is disconnected. The MAC address displayed on the FusionCompute is different from that recorded on the SC.
[Key words]: The VM network is disconnected, and the MAC addresses are inconsistent.
[Applicable version]: Versions such as FusionCloud1.2, 2.0.5, and 2.0.6
[Symptom]: The VM network is disconnected.
[Cause Analysis]
The MAC address of the VM displayed on the SC page is different from the MAC address of the VM on the FC. It is suspected that the fault is caused by improper operations on the FC. As a result, the data is inconsistent and the network is disconnected.
Log in to the FC portal to view the VM operation logs.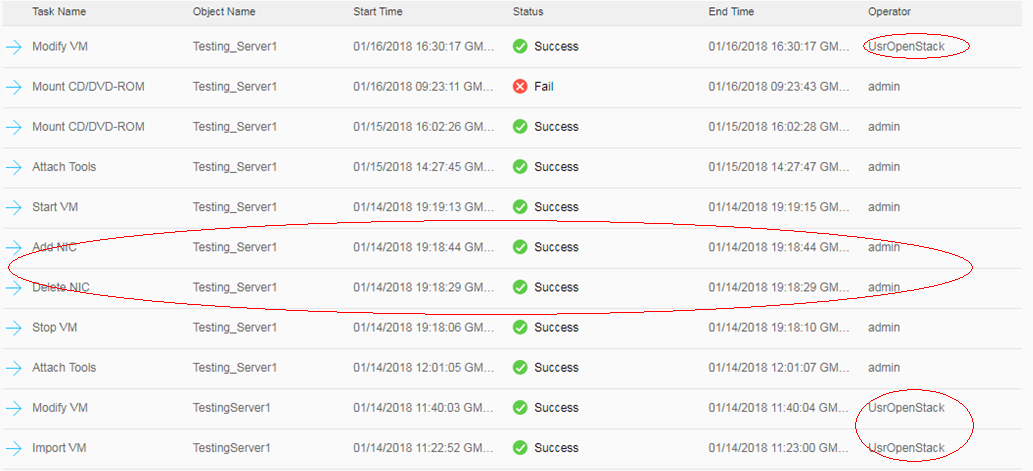 It is found that the customer configures network adapters for VMs on the FC. Instead of using the SC to deliver changes from OpenStack.
Then, SC portal continues to find that the sc does not change the NIC of the VM on the day when the underlying NIC is changed.
Delete the NIC configured on the sc, delete the NIC added on the underlying FC, and re-allocate NICs to the VM on the sc. After the VM is restarted, the network recovers. Before performing this operation, confirm with the customer about the impact of network interruption and VM restart. After obtaining the customer's authorization, perform the operation again.
[Solution]:
In the data center scenario, do not directly perform operations on the VM NIC on the sc as required. As a result, the record information of the sc/opentstack is inconsistent with that of the underlying layer, causing service exceptions.