SVF Introduction
In the traditional access layer networking used in data centers, servers connect to the network through a large number of fixed switches, as shown in

 below
. As the network size expands, increasing network devices are deployed. Network management becomes an important issue in data center infrastructure management.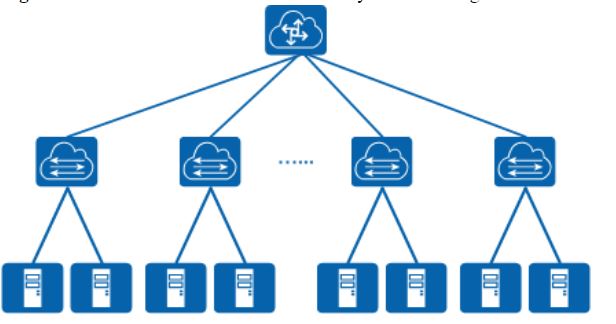 Super virtual fabric (SVF) is a vertical virtualization technology that virtualizes access and aggregation switches into one device to simplify network configuration and management, as shown below:
Compared with traditional access layer networking, SVF networking has the following advantages:
Lower network construction costs: Low-cost switches are used as access switches, so network construction costs are reduced.

Simpler configuration and management: SVF virtualizes multiple devices into one, reducing the number of nodes to manage. You do not need to deploy complex loop prevention protocols, simplifying network configuration and management.

Higher scalability and more flexible deployment: When more access ports are required on the network, you only need to add low-cost fixed switches to the network. Moreover, these low-cost switches are deployed near servers, making network deployment more flexible.
SVF Concepts
Parent/Leaf switch

Devices in an SVF system play either of the following roles:

Parent switch: controls and manages the entire SVF system.

Leaf switch: an extended device that acts as a remote device to connect to the parent switch and servers.
Leaf ID
A leaf ID is the identifier of a leaf switch. Leaf IDs are used to identify and manage leaf switches in an SVF system. Each leaf switch has a unique leaf ID.
Fabric port
A fabric port is a logical port that connects a parent switch and a leaf switch. One or more member ports can be added to a fabric port.