Hey there! 

This case describes the static route switchover failure caused by incorrect NQA parameter settings.
Problem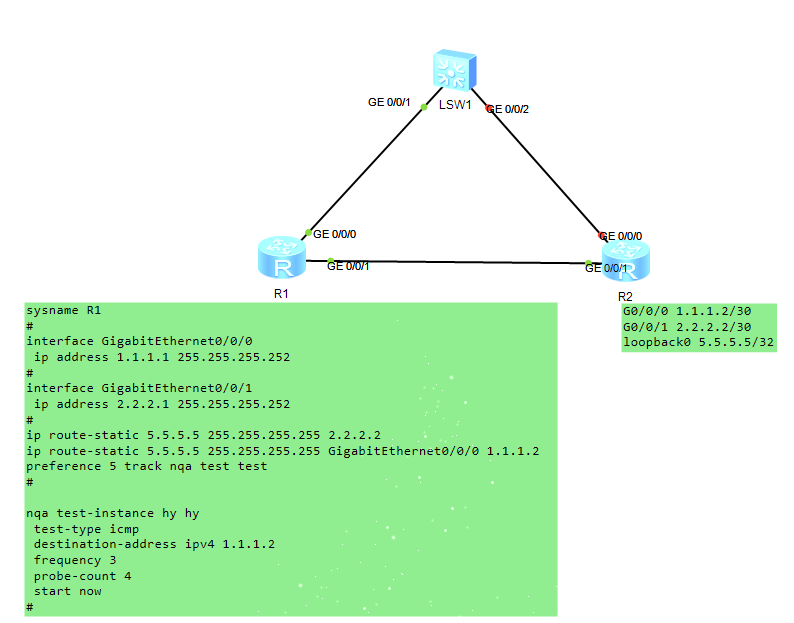 The preceding figure shows the Topology and main configurations.
There are two paths from R1 to R2. The primary path passes through the switch which is used to simulate an intermediate device.
Two static routes are configured from R1 to R2, and the primary route tracks NQA. After the communication between the switch and R2 is interrupted, the routes are not switched.
The route is not switched. 
The NQA test completion status is no result.
Solution
Looking through the product documentation. It found that there are some restrictions on the frequency configuration.
The default timeout period is 3s, the default interval is 4s, the probe-count is configurated to 4. So the frequency must  greater than  (4-1)*3+3+1= 14s
Since the frequency is set to 3s. The completion is no result.
After changing the frequency value to 15s. NQA test success. NQA detects the link failure and the static route is switched.
[R1-nqa-test-test]dis this
#
nqa test-instance test test
 test-type icmp
 destination-address ipv4 1.1.1.2
 frequency 15
 probe-count 4
 start now
#
Please feel free to ask me any questions!