1. First step: We need to collect some information when trying to login the switch, by using the commands below:
<Huawei>debugging ssh server all all  
<Huawei>terminal monitor
Info: Current terminal monitor is on.
<Huawei>terminal debugging
Info: Current terminal debugging is on.
        2. Second step: Analyze the debugging logs, firstly check the algorithm and then check how long it take:
       3. After analyzing the debug we noticed it use the highest complex one which should use the most time to compute.
SSH have 3 different algorithms dh_group_exchange_sha1、dh_group14_sha1、dh_group1_sha1 . It uses now "dh_group_exchange_sha1" which is the highest algorithms with complex security.
Since uses the most complex algorithm and since this switch does not have enough CPU to compute, it is normal to take that long.
       4. As a workaround, we can use this command to adjust the sequence but this will compromise the security:
"ssh server key-exchange"
The default sequence is dh_group_exchange_sha1 | dh_group14_sha1 | dh_group1_sha1 and the security is from high to low. We can also change the algorithm from Putty tool.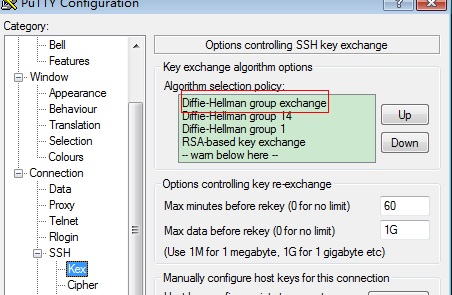 If you have any problems, please post them in our Community. We are happy to solve them for you!