In the previous four episodes, we introduced how the OSPF establish adjacency relationship and exchange its own LSDB with other routers, finally, every routers in the same area maintains the same LSDB. Routers can rebuild the topology and caculated the route path based on LSAs kept in the LSDB. 
First of all, let's talk about how the router rebuild the topology by the router-LSAs kept in the LSDB.

Topology as below:




check LSDB on the router ar2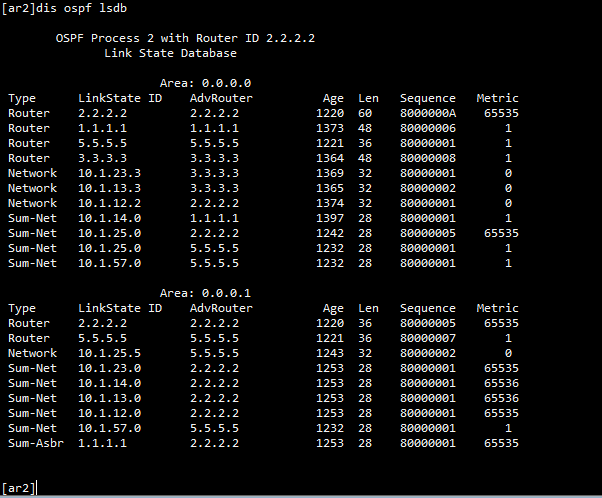 as the LSDB describe, two areas contained on router ar2.
check router-LSA in area 0 one by one


picture above shows that a router-LSA with link-state ID 2.2.2.2, it is the RID of the router which generates this router-LSA. link count means how many links has connected to this router. As we talked about in episode 4, in router-LSA, if the type of the link is TransNet, link ID is the interface IP address of the DR, Data is the interface IP address which connects to this TransNet. In the picture above, a router with RID 2.2.2.2 connects three network segment, two TransNets and one Virtual. Link ID: 10.1.12.2, Data: 10.1.12.2, link type: TransNet, these three data points indicate that a router connects to transport network through an interface with IP address 10.1.12.2, in this network, the IP address of the interface which belongs to the DR is 10.1.12.2, as shown below.



In this way, we can draw the rest of the router based on the router-LSAs as below.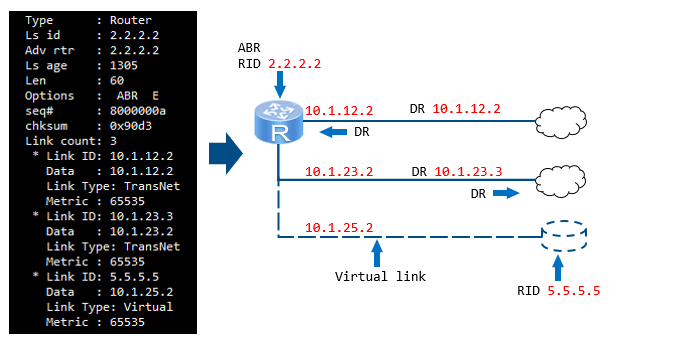 Combine the above topology results, we can get a topology rebuilt by the LSDB on the router shows as below.


when all the OSPF routers rebuild the topogoly based on their own LSDB, the topology of the entire OSPF network is completely reproduced.
In the next episode, we will introduce the SPF algorithm and how the OSPF generate the route path based on the LSDB