Problem description:
When we backup the configuration of device on U2000, it failed, and show that error: Failed to connect to the remote host.
Problem analysis:
1.When the U2000 is backing up the NE data, the U2000 usually uploads the device data to the NMS server through FTP or SFTP. The FTP test succeeds on the U2000. The FTP test is performed on the device and the test fails;
2. It is suspected that the device is configured with a VPN. Therefore, using the ftp plus address plus VPN instance name test, you can log in successfully. The FTP command sent by the U2000 when the NE metadata is backed up is not added with the vpn instance name. It is the ftp network management address. Therefore, the command of the sending device fails during backup.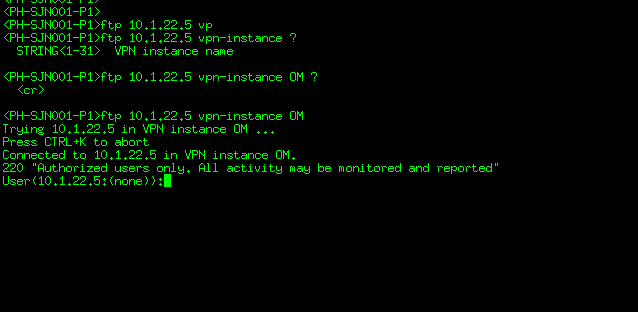 Solution description:
The name of the VPN instance that is queried is OM. Execute the Set Device VPN Parameters command on the device:
Set net-manger vpn-instance OM
Then, ftp the server address on the device to test the success, and then back up the NE data on the U2000. The backup is successful.
This post was last edited by Barret at 2018-08-25 03:34.