What is Facial Recognition?
Biological characteristics (fingerprint, retina, iris, gait, vein, face) as an intrinsic attribute of human beings, with strong self-stability and individual differences, are the most ideal basis for automatic authentication. Because facial recognition is direct, friendly and convenient, the user has no psychological obstacles and is easy to accept for the user, thus obtaining extensive research and application. In addition, we can further analyze the results of face recognition and get a lot of extra rich information about people's gender, expression, age, etc., which extends the application prospect of Face Recognition.
Advantages and applications
Facial recognition has the advantages of reliability, non-invasiveness and high efficiency, and is mainly used in smart door locks, face gates, face attendance machines, face contrast.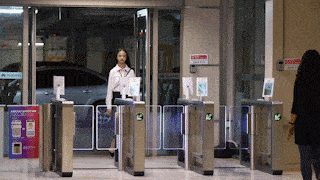 Development process
Principle
Face Recognition uses a specific algorithm to confirm the identity of the characters in the picture. This algorithm mainly includes four modules: face detection, face alignment, face feature extraction and selection, and face recognition.

  Face Detection
Search for images or videos to determine if there is a face, and if so, locate the location and size of each face.

  Face Alignment
The posture of the detected face is corrected so that the face is as "positive" as possible, and the accuracy of the face recognition can be improved by the correction.

  Face Feature Extraction
Face feature extraction is the process of converting a face image into a series of fixed-length values.The face feature extraction algorithm aligns the faces according to the facial features of the face and then calculates the features.

Face Recognition
Face recognition is an algorithm that identifies the identity of a face.
After the face feature is input, it is compared with the features of the N identities registered in the database to find a feature with the highest similarity to the input feature. The highest similarity value is compared to a preset threshold, and if greater than the threshold, the identity corresponding to the feature is returned.
For other information, see Face recognition indicator introduction.