Hi,
I just want to share an interesting topic that I learned during the training that I attended.
As you can see in the picture above, the s0/0/0 of R1 and R2 are 1.1.1.1/24 and 2.2.2.2/24. No routing protocols or L3 protocols are configured on each router. The only configuration is ip addressing on s0/0/0 and link-protocol PPP on the interfaces.
If you try to ping R1 and R2 the ping will succed as shown in the image below: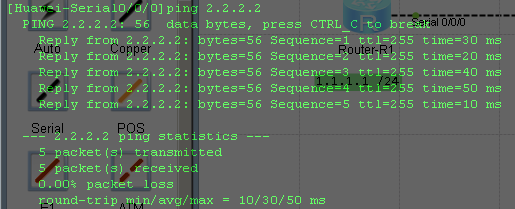 So how is this possible? there is no routing protocol, the ip addresses are not on the same subnet.
PPP has a feature called PPP neighbor route. This feature allows for connected interface that are not on the same IP subnet to communicate with one another by installing a /32 route for the neighbors IP address which can be seen as connected. Its activated on Huawei devices by default and if you want to disable it you can run the command ppp peer hostroute-suppress on the interface and this disables the PPP neighbor route feature.