Hi guys:

I'd like to share with you a problem I have recently encountered.
Problem Summary     
The OSPF neighbor relationship cannot be established on the VPN sub-interface of two 5720SI interconnection eth-trunks.

Handling Procedure
1) Check the configurations of the two switches. It is found that the configuration is normal. Run the eNSP to simulate the configuration. It is found that the OSPF neighbor relationship is normal. Therefore, the fault is not caused by the configuration.
2) Check the physical link. It is found that the eth-trunk has sub-interfaces for other VPNs. The OSPF neighbor status is normal and the traffic is normal. The two switches are directly connected. No intermediate device is available. No packet loss occurs in the ping packet. Therefore, the problem is not caused by hardware faults.
3) Run the display ospf error command. No OSPF error is found.
4) Check logs and alarms. No exception is found.
5) Open OSPF debug. No useful information is found.
6) The number of OSPF routing entries on the device is about 2K, which does not exceed the limit (12K).
7) Finally, we notice the OSPF process has 64 up interfaces. Query the OSPF specifications of the switch and found that 64 is the maximum number of interfaces supported by a single OSPF process.
display ospf brief
Process total up interface count: 64
Process valid up interface count: 64
display ospf cumulative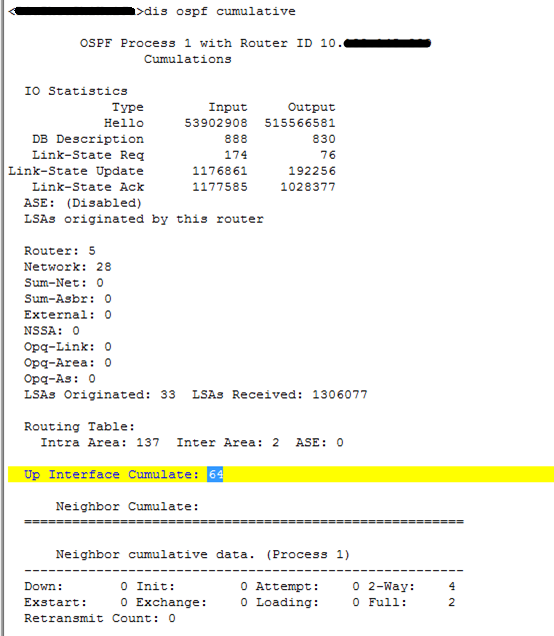 8) Delete some network segments that are advertised by using the network command. Import these network segments into OSPF through import+policy mode, so that the number of interfaces that are up in a single OSPF process is less than 64. The problem is solved.
Summary
Each OSPF process supports a maximum of 64 up interfaces. When the number reaches the upper limit, the newly accessed interface does not go Up.  When using the network command to specify the interfaces, regardless of whether the interface has neighbors, the interface is counted. The number of interfaces is not the number of networks, For example, you have configured a network segment 192.168.1.0/24. But in fact, there are 10 small network segments of 192.168.1.X/30 on this switch. In this case, 10 interfaces are counted into the up number. And there is no such restriction using the import command.
When the OSPF neighbor cannot be established, in addition to common causes, it may be a specification limit which is more difficult to locate and we need to pay attention to.
The OSPF interface specifications of some switches:
S6720EI/S6320EI: 64
S5720HI/S5320HI: 128
S5720EI/S5320EI: 128
S5720SI/S5320SI: 64