Purpose of MAC Layer
MAC (Medium Access Control) layer is used to share resources to all subscribers since Air Interface resource is very limited in LTE. Functions of MAC can be defined in 3 groups:
The main function of the MAC is to assign the limited resource to all subscribers. This function is called scheduling. There are many scheduling algorithms which are efficient in different situations and scheduling also relies on different factors to gain efficiency.
Transport channel determines the scheduling algorithm. Also, there is a logical channel which indicates a different kind of data. Different data may have different transmission ways. Hence, scheduling would be different. MAC layer performs the mapping between a logical channel and transport channel to define the scheduling algorithm.
MAC layer also has a function for transmission reliability, which is called HARQ. It is an enhanced edition ARQ used in the RLC layer to provide reliability.
Scheduling
Scheduling means resource (freq-time) allocation to subscribers dynamically.
In LTE resource allocation TTI is 1ms. The resource can be considered as frequency. Because of LTE has maximum 20MHz bandwidth, resource will be shared to all users periodically. Since TTI is very small, this makes scheduling high efficient.
MAC is a very complex layer of Air Interface and scheduling can be varied. Different vendors can have different scheduling algorithm. But no matter vendor changes, there are some factors to dynamically allocate resources and make scheduling.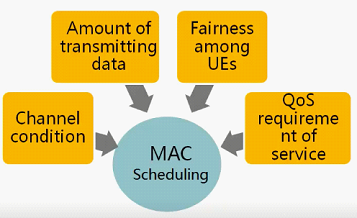 Channel condition: If UE has very good channel condition, the MAC layer can use high modulation to make transmission reliable.
Amount of transmitting data: MAC layer considers the amount of data if it is huge to transmit or small.
Fairness among UEs: MAC layer considers the priority and waiting time for the users.
QoS requirement of service: If QoS is high, the MAC layer can use high priority scheduling for this service.
Scheduling Modes
There are two different modes to decide scheduling algorithm: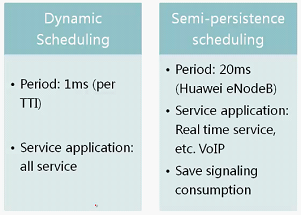 The obvious difference between above scheduling modes is the TTI period. 1ms TTI can be used for most of the services. But when it is 20ms, it can be used for QoS services. Long TTI period can provide a decrease of the cost of scheduling resource.
Scheduling Strategies
All four strategies are used to decide the scheduling algorithm by the MAC layer. Considering the gains and loss, a better strategy came up.
Max C/I
This strategy is based on the channel condition. It is mostly used at demonstrations. Because the UE used has the best quality and get the scheduling. High throughput tests are executed in this strategy. But other UEs cannot get scheduling. There occurs unfairness.
RR – Round Robin
Unless Max C/I strategy, all users get the same scheduling in RR. Bandwith is calculating for each UE by dividing user number. As it looks a very fair strategy, it is not. Because for each user, service can vary. If the MAC layer allocates the same resource, QoS would not be guaranteed.
PF – Proportional Fair
PF considers many factors rather than other strategies. Service rate, waiting duration, channel quality can vary for UEs and MAC layer makes scheduling depending on these variables. But QoS is still not guaranteed.
EPF – Enhanced Proportional Fair
EPF covers all previous strategy's disadvantages and guarantees QoS. It is used in commercial networks.
TB, TTI, Transmission Format
LTE standards allow MAC of the transmitter to send 1or 2 transmission blocks (TB) to the physical layer in every TTI. The size of TB is transmission format. MIMO decides whether to send 1 or 2 TBs. Maximum size of 1 TB is 75736 bits. If this number divided by 1ms, the result would be approximately 75Mbit/s which refers to MAC throughput. If MAC of transmitter sends 2 TBs in every TTI, MAC throughput would be increased to 150Mbit/s.