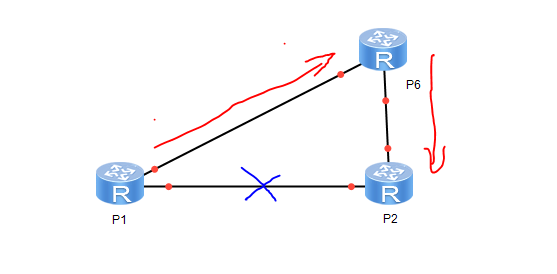 Problem:
We are experiencing an outage of the 1Gb link between P1 and P2. Between P1 and P2  it is an SVI configured which is not working.
In order to restore connectivity we wants to set up an LDP remote-peer on both P1and P2 which will send labels via P6
Question:
What will happen in terms of LDP when the link between P1 and P2 is re-established because it will exist two LDP sessions: a direct one P1 - P2 and a remote one P1 - P2 - P6 ?
Solution:
After the link between P1 and P2 is re-established, the remote-peer session will be established in the direct link between PE1 and PE2 when the ISIS routing convergence is done (from the path P2-P6-P1 to the path P2-P1 due to the cost is low on the direct link), also the point-point LDP session between P1 and P2 will be on this direct link too.<?xml:namespace prefix = "o" ns = "urn:schemas-microsoft-com:office:office" />