Traditional DDoS attacks are flood attacks, mostly targeting at carriers' fundamental network infrastructure, whereas existing DDoS attacks target at specific applications and services, such as enterprise applications, online shopping, online videos, online games, DNS, and email. The targets are expanding, the attack traffic in a single time is small and costs low, and the attack behaviors are becoming increasingly complicated and vivid, which add difficulties to anti-DDoS.
With the enterprise as the target of DDoS attacking raising, it becomes more and more necessary to implement the Anti-DDoS in the enterprise network.
Huawei anti-DDoS solution not only defends against traditional traffic-type DDoS attacks but also provides application-layer defense, and IPv4-IPv6 dual-stack protection.
Huawei anti-DDoS analyzes the packets by byte and builds a seven-layer filtering architecture by using malformed packet filtering, feature-based filtering, malformed source-based defense, real source-based behavior detection, session-based defense, behavior analysis, and traffic shaping. The seven-layer filtering architecture can accurately detect attacks, including flood attacks, application-layer attacks, scanning and sniffing attacks, and malformed packet attacks.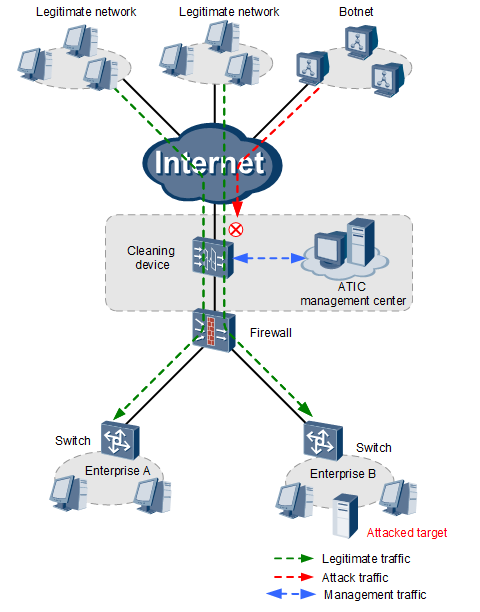 As shown in figure above, the cleaning device is deployed at the ingress of the enterprise network in in-line mode to protect incoming and outgoing traffic. When anomalies occur, the cleaning device housing the bypass card promptly enables attack defense.
To learn more, you can refer to https://support.huawei.com/hedex/hdx.do?docid=EDOC1100077270&lang=en