Hi everyone,
I will share with you how to interconnect eNSP with GNS3.
The principle of the interworking between the eNSP and GNS3 is to use the cloud (local network adapter 127.0.0.1) to set up a UDP tunnel between the two simulators. Interconnection requires only two steps:
Step 1: On the GNS3 side:
First, create a cloud, double-click the cloud, and configure the local and remote port numbers on the UDP tunnels tab page. (The cloud must be configured before the connection and cannot be configured after the connection.) In the following figure, port 30001 is used at the local end and port 30002 is used at the remote end. After configuring the UDP port, click "Add" to save the configuration. The GNS3 cloud configuration is complete.
Note that no matter whether the Cisco or Juniper OS runs on the local or VM, the cloud interface must use the local server.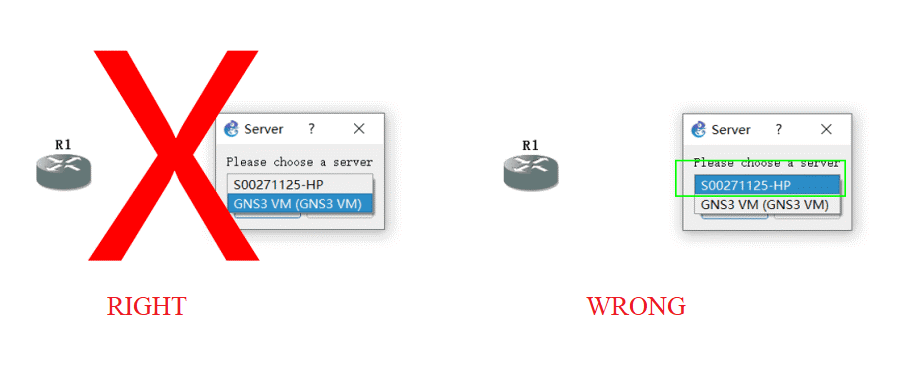 Select the UDP tunnel for the cloud interface and do not select Ethernet.
So far, all the operations on the GNS3 are complete.
Step 2: On the eNSP side:
 Compared with GNS3, operations on the eNSP side are slightly more complex.
First, a cloud is also created on the eNSP.  The port number is opposite to the GNS3 configuration (local 30002 and remote 30001). Set the peer IP address to 127.0.0.1, select "public UDP Port", set the port type to Ethernet, and click Add to confirm the configuration.
In addition, another UDP binding needs to be established due to eNSP restrictions. On the cloud configuration page, deselect "public UDP Port" and click "Add" to create an internal connection channel.
After the two UDP entries are configured, configure the "port map settings" at the bottom of the window. Select 1 and 2 for the "Local Port Num" and "Remote Port Num", select "Two-way" channel, and click "Add".
After the configuration is complete, close the cloud configuration window and connect the cloud and devices. The eNSP configuration is complete.
Test results:
Let me know if my solution works out for you.