【Problem Description】:
IGMP streaming issue in the network,channel freeze for some time randomly then go normal.
IGMP source/ Feed is coming in the vlan 464 in core switch and then we are using different vlans for different floors.
IGMP server vlan: 464   …… IGMP source is ISP connected to port GE 1/1/0/10
User/IPTV vlans: 399 to 461.
TOPOLOGY IS LIKE THAT,
IGMP SOURCE IS COMING------------àCORE SWITCH (VLAN:464) --------------------à Edge Switches IDF STACK-------à ROOM Side Switch.
【Problem Analysis】:
1.       Login the S5700 and  found  the CPCAR packet drop by  running command"display lsw slot X showdropcnt"check  the  output Field "CPU code rate limiter Drop Cnt",there are  some packets  dropped  by CPCAR

2.Modify the CIR parameter  from 64  to 256,and you  can check the  result by  running command display cpu-defend configuration all
Configuration command  as  follow:
Example of change to 256 
#
Cpu-defend policy igmp
  Car packet-type igmp cir 256
Cpu-defend-policy igmp
Cpu-defend-policy igmp global
#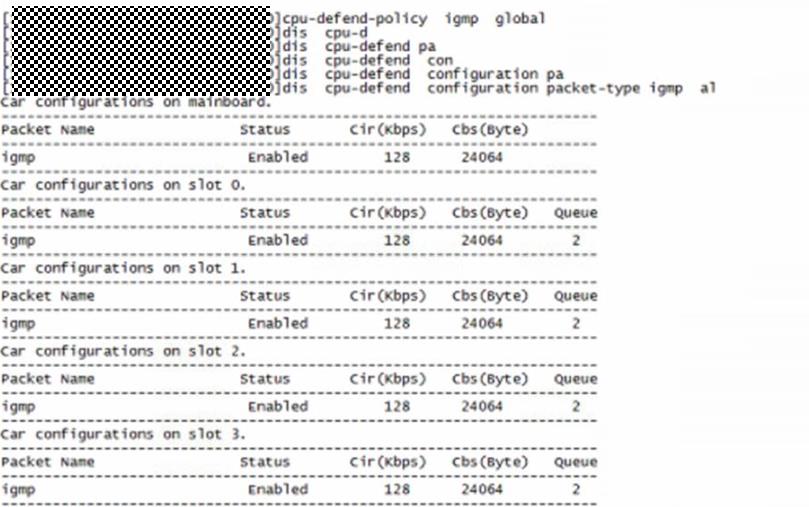 3- Login the Core switch, and  check the information about member ports of multicast group. Sometimes there is no output, but sometimes  we can  see some normally  display information
4- Run command  display igmp-snooping router-port v  ,to check the  IGMP route port information ( IGMP source ) ,   found the route port is GE1/1/0/10
Then run  command "display interface GE1/1/0/10" to check the interface state, we found the port  was UP/Down
5- check  log buffer, double confirm that the GE1/1/0/10 was UP  /Down .... The service is from ISP so need to check ISP side .
【Root Cause】:
1.Route port GE 1/1/0/10 physical link issue, core switch cannot receive IGMP General Query messages from the IGMP  source  side normally ( ISP ) .
2.CPCAR value is small
【Solution Description】:
1-      Check the GE 1/1/0/10 physical link, make sure the port can keep  UP
2-      Change the S5700 switches  CIR  from 64 to  256