——Leveraging Huawei's Best Practices for Enterprise IT Digital Transformation
[Shanghai, China, October 10, 2018] At HUAWEI CONNECT 2018, Huawei released a unified Operation & Management (O&M) platform called the Intelligent Management and Operation Center (I‧MOC) for large-scale cloud data centers.
Automate Operation & Management Tasks
The I‧MOC incorporates Huawei's 30 years of O&M experience, providing customers with a GUI-based, intelligent, easy-to-use, and open digital operation experience. It helps customers address O&M challenges during IT cloud operation and digital transformation.
During the event Sun Maolu, President of Huawei Enterprise Technical Service Dept., stated: "O&M innovation is an inevitable choice for the future. The I‧MOC platform is a GUI-based and intelligent O&M management system providing comprehensive functions including supervision, management, control, operation, and services."
Currently, digital transformation is in the early stages. The cloud and big-data technologies lead to a consolidation of data centers, and the digital transformation of IT systems poses significant challenges to traditional O&M practices. Traditional O&M is distributed and relies heavily on manual labor, and customers have difficulty to obtain an accurate inventory of the vast amount of resources.
Leverage 30 Years of O&M Experience
Zhang Peng, Director of Huawei Cloud Data Center Mgmt. Dept., said: "Huawei has accumulated significant experience in transforming the O&M from a passive, labor-intensive, escalation driven, and distributed O&M, to an automated, platform-based, service-oriented and digitalized O&M. Currently, Huawei O&M supports the uninterrupted operation of 200+ data centers, 300,000+ servers, 1,000+ PB data, and 800+ services around the globe. The human and equipment maintenance ratio has reached 1:8000, achieving effortless O&M."
Today, Huawei offers its 30-year O&M experience to the government and enterprise market.
On the left: Zhang Peng (Director of Huawei Cloud Data Center Mgmt Dept)
In the middle: Ye Zhonghua (Director of the Enterprise Business Professional Service Dept., Huawei Enterprise BG)
On the right: Zhang Hui (Director of the Enterprise Service Marketing & Solution Sales Dept., Huawei Enterprise BG)
Industry Digital O&M Solution
"We have set up a four-level IT architecture from province to municipality to county or even to township. During digital transformation, we are expecting a solution that can help us streamline the entire O&M system," a customer at a provincial bureau of China said. Centralized IT architecture makes digital O&M a critical and urgent need.
Huawei I‧MOC consists of five systems: Monitoring, management, control, operation, and service. It cooperates with Huawei's industry O&M services, RMS services, and cloud DC O&M services to provide integrated and comprehensive O&M solutions for customers in Smart City, Smart Campus, and Safe City scenarios, delivering GUI-based, intelligent, easy-to-use, and open digital O&M experience.
I‧MOC Cooperates With Partners to Build an O&M Ecosystem
Ye Zhonghua, director of Huawei Enterprise Business Professional Service Dept., said: "The business strategy of I‧MOC is innovation, sharing, and win-win cooperation. The I‧MOC boasts an open architecture. Partners can quickly construct O&M scenarios and applications to share Huawei O&M practices and rules on the I‧MOC platform. I‧MOC adopts flexible and innovative business models for the public cloud SaaS service and private cloud dedicated services, to work with partners to achieve win-win results."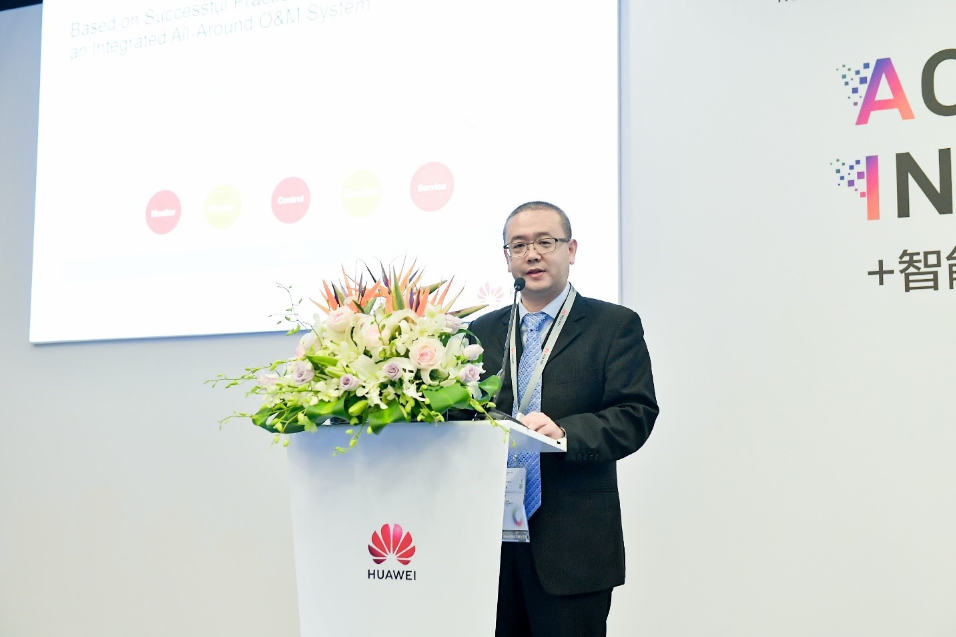 Ye Zhonghua, Director of the Enterprise Business Professional Service Dept., Huawei Enterprise BG, giving a speech during the I‧MOC launch
Zhou Yilin, Director of  Enterprise Business Cloud Enablement Service Dept, Huawei Enterprise BG, giving a speech regarding Smart Services, Intelligent Operations
Huawei is committed to working with customers in the long term and takes a future-oriented approach to drive enterprise digital transformation through the power of the platform. So far, 211 of the Fortune Global 500 companies (including 48 Fortune Global 100 companies) have selected Huawei as their digital transformation partner.
HUAWEI CONNECT 2018 – "Activate Intelligence" –is held at the Shanghai World Expo Exhibition and Convention Center and Expo Center from October 10 to 12.
This year's HUAWEI CONNECT conference is designed to help all businesses and organizations step over the threshold and stake their claim in the intelligent world. You will be joined by the best minds in the industry – including global ICT leaders, industry experts, and ecosystem partners – to chart the way forward and explore new opportunities.
If you are interested in Huawei Service solutions, please visit: https://e.huawei.com/en/services.