[Problem background]
XXX customers want to implement remote ping on our devices through snmp network management.
[Steps]
1. Configure the SNMP agent on the AR and four commands in system view:
Snmp-agent community complexity-check disable
Snmp-agent community read public
Snmp-agent community write private
Snmp-agent sys-info version all
2. Open the mib browser and connect to the device
3. Find the pingCtlEntry table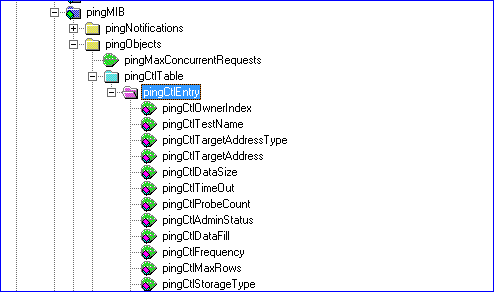 4. Right-click on the pingCtrlEntry table and select Multiple Variable BindingsPrompt For Instance...
Set to 1.49.1.49, the format is a.b.c.d, where a and c have no meaning, b represents the administrator name of the test case, d represents the test case name, b and d cannot be the same.
5. Set the required options
Note that the pingCtlType node has an OID and the supported OID is in the pingImplementationTypeDomains table.
When setting the OID, the commonly used ones are:
1.3.6.1.2.1.80.3.1 (pingIcmpEcho)
1.3.6.1.2.1.80.3.2 (pingUdpEcho)
In addition, our current ip address type only supports Ipv4
6. View the test case results, walk pingResultsTable this table:
The results are as follows:
7. In fact, the principle of remote ping is to establish an NQA test instance on the device. You can check whether the remote ping test is successfully delivered by checking whether the NQA test instance is generated on the device.