This section describes how to set the Wired Network parameters and Management system IP/Domain server for Smartlogger3000 in order to connect on FusionSolar monitoring portal.
Use the next Domain name to connect the Smartlogger3000: intl.fusionsolar.huawei.com.
1.     Login on Smartlogger3000
Before connect on WebUi of Smartlogger3000 you need to set your local area connection of your computer with an IP in the same range like Smartlogger3000 (default IP 192.168.0.10):
Go to Windows startàControl PanelàNetwork and InternetàNetwork and Sharing CenteràChange adapter settingsàDouble click on Local Area ConnectionàDouble click on Internet Protocol Version 4 and set the IP 192.168.0.15 like below: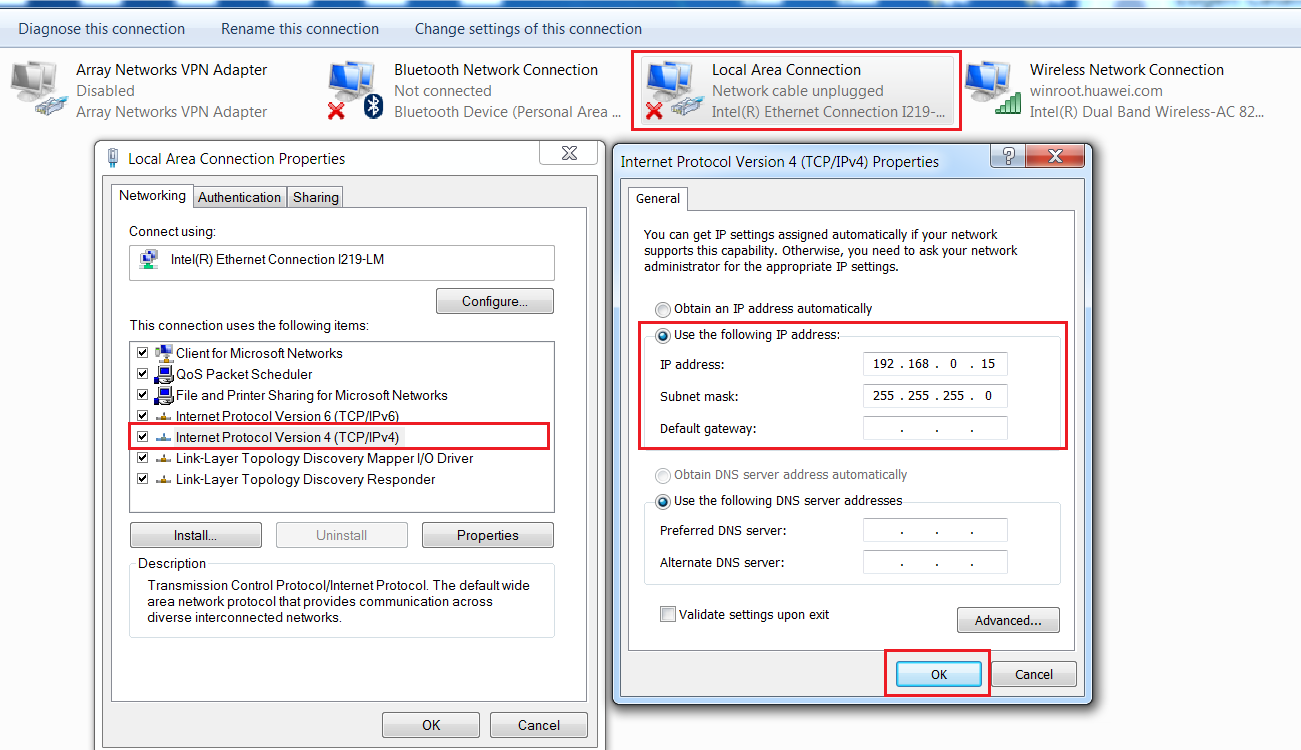 Connect Ethernet cable in WAN PORT and open the next link in a browser (Chrome or IE) https://192.168.0.10 and login as admin with the default password "Changeme"
When you connect for the first time you need to change the password. Login with your password if you change previously.
2.     Set the Wired Network parameters
After you login on Smartlogger3000 select SettingsàComm. Param.àWired Networkàand set the IP in the same range with your router and the Default gateway need to be the same with the router IP and submit.

The default IP for Smartlogger3000 is 192.168.0.10 for WAN port and if your local IP of your router is 192.168.0.1 you can leave the default Ethernet parameters like it is and the Smartlogge3000 will be able to connect with the router. You can find the router IP on the label, in general the default IP of the routers is 192.168.0.1 and sometime 192.168.1.1.
If your router IP is different set the Smartlogger3000 like below example:
Router IP: 192.168.1.1
Smartlogger3000 IP Address:
IP address: 192.168.1.10
Subnet mask: 255.255.255.0
Default gateway: 192.168.1.1(it is same with router IP)
DNS Server address:
Primary DNS: 8.8.8.8
Secondary DNS: 8.8.4.4
3.     Set the Wireless Network
If you use 3G/4G SIM card set the connection details as below:
Select Settings tab and choose Wireless Network and set APN mode to Automatic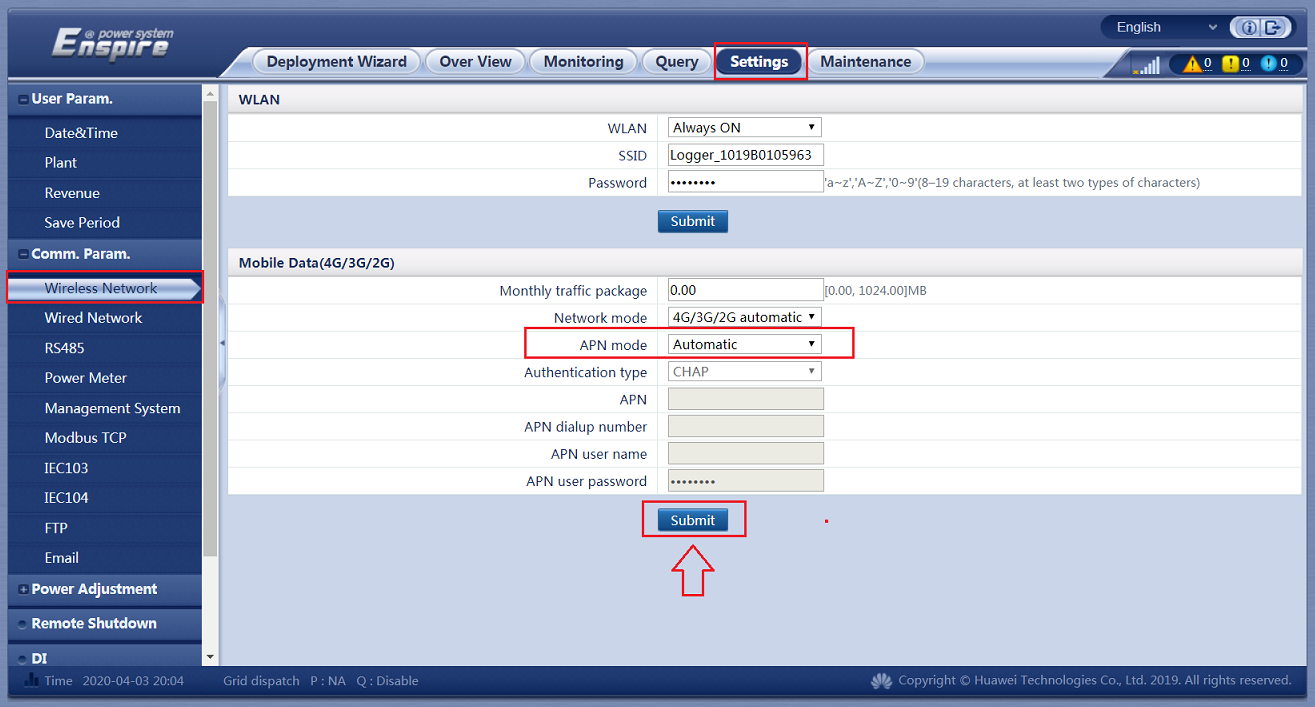 If the connection don't work set the APN mode to Manual and insert the connection details from the SIM card instruction:
Check the connection status: Over ViewàMobile Data
4.     Set the FusionSolar server
From the Settings tab select Comm Param. à Management System and set like below:
-Server: intl.fusionsolar.huawei.com
-Port: 27250
-Address mode: Logical address
-SSL encryption: Enable
-Second challenge authentication: Disable
-Submit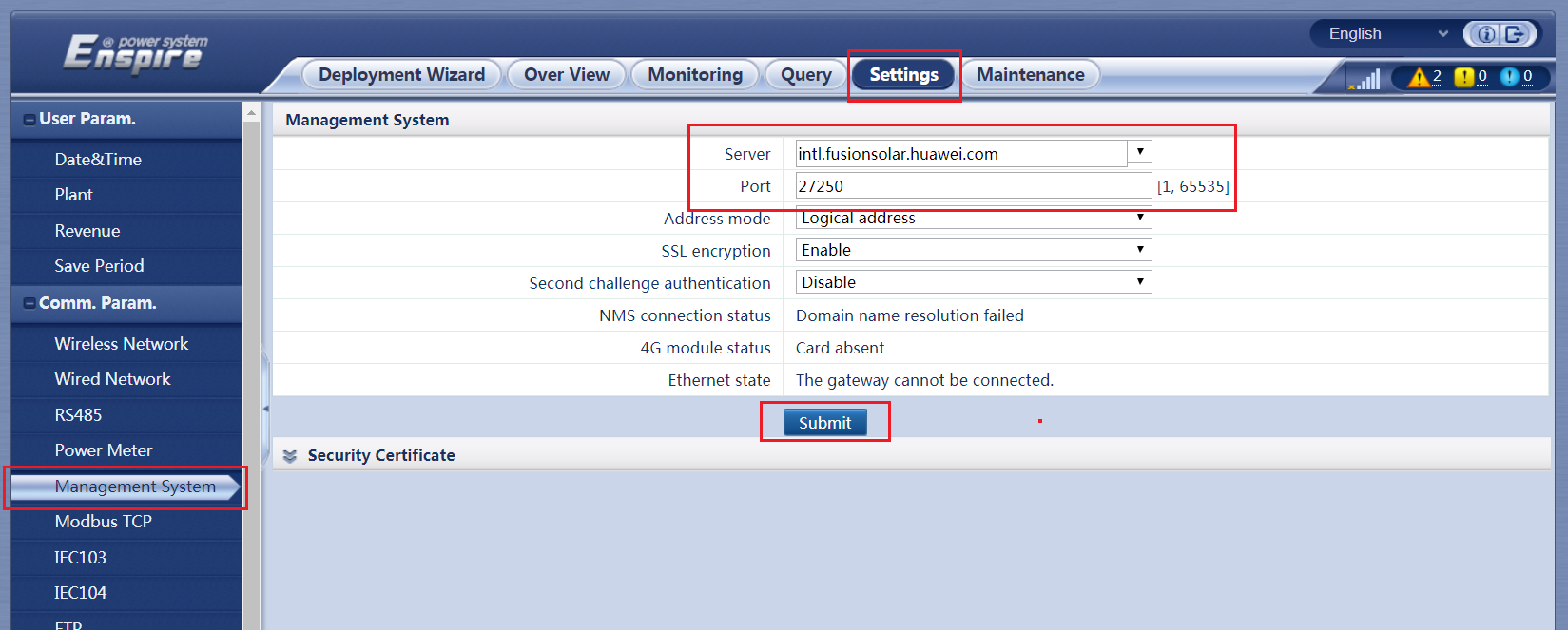 After you set the Wired Network parameter and FusionSolar server you can create installer account connecting to the next link: https://intl.fusionsolar.huawei.com.
Contact the service team for instruction:
E-mail:eu_inverter_support@huawei.com