HCIE the goal
Being HCNP certified would have been quite enough, but I was eager, gave it a try and started my HCIE preparations. Even if I failed the exam and gave up, I would have gained very precious knowledge and experience. In contrast to CCIE and JNCIE, HCIE is composed of three exams: written, lab and interview. You need to pass them in this exact order, otherwise you are unable to book an appointment for the next step.
HCIE written exam
After passing H12-224 for the HCNP I spent the next two months studying intensively for an average of 15 hrs a week. When I finally passed the HCIE written exam I was surprised; it was the easiest Huawei exam I have ever taken – simply because all the questions were technical and mostly standard-oriented. Almost no proprietary features were touched upon.
HCIE lab exam
The next six months I spent around 60 hrs on practice in eNSP, preparing for the lab exam. I did all the relevant exercises I found in Huawei's eLearning portal and played around with self-generated scenarios. When I felt confident, I set an appointment in Amsterdam (or more precisely in Amstelveen). It was kind of strange that I was given a slot on Saturday, but having a lot of adjacent business meetings during a week – at least my exam did not cause any other meeting to be rescheduled. The other strange thing was that after I booked the lab exam I'd been waiting for some exam instructions – what to do and what not to do, what to take with me and what is not allowed to be brought into the exam room. I looked on the Internet for some other impressions from this exam and got to know that it's quite cold in there.
The exam was scheduled to start at 09:00 in the morning, I was able to get a good night's sleep and to have a good breakfast. Also, I arrived at the exam center (Huawei office) reasonably earlier, at 08:15, so I would have 45 minutes to get to know the building, take a seat in the exam room, have a cup of coffee, talk to the proctor about the rules and even relax a bit before starting the exam. Unfortunately, this did not go according to plan, the proctor could not make it on time and his deputy arrived at 09:15. The exam room looked like a regular meeting room, which was fine with me – it was cosier. I was given an exam rules sheet and found there a few surprises, especially that arranging the lunch was my responsibility. It wouldn't be a problem if it was not a Saturday and the restaurants in the businesspark were closed. I could also go wandering around in the hunt for food and for sure I would have found a place to eat something but I did not know the vicinity and I didn't want to get lost. If only I had known that in advance…
Another rule was that I was not allowed to change any settings of the Windows-based notebook. My problem was that it had a Chinese simplified keyboard layout and no other layout easily accessible. I had to break this rule. When I finally started my exam, the clock showed that 35 minutes had already passed. I could ask to extend my exam, so I would be given back the 35 minutes that I lost, but the point was that shortly after the planned exam end-time, I had a flight back to Zurich and extending the exam was not an option.
The exam topics were quite easy, however, I ran into some basic configuration issues and spent too much time fixing them. I skipped only some minor tasks about configuring some IP services or uncommon Huawei proprietary features, all the major questions were answered. I also skipped lunch, so that I could make up for the lost time. At one point in the late afternoon, I felt uncomfortably hungry but still, I finished the exam on time. Doing so, I had to skip the final self-checks of all my configurations, if all the features were still working, etc. I completed the exam, went to the airport to have a bite to eat and then flew back home.
After a week I got the score. I failed (grade D), 0% in all sections. I asked for reevaluation and two days later I got an updated score report. It was "C"! Hurray? Nope. Both C and D mean "YOU FAILED", only A and B mean "LUCKY YOU". The detailed per-section score showed me my weak points. About three months later I had the second lab attempt, but this time in Huawei's office in Switzerland. Conveniently located only 14 minutes by tram from our office. It's cool, isn't it? It was a Wednesday and the in-house restaurant was open for business. This time everything was well prepared and I passed.
Besides some unfavourable conditions on the first attempt, it turned out that I had some major knowledge gaps. How did I repair them? No training materials. No eNSP, (no lab at all). I spent a couple of weeks reading very carefully Huawei HedEx product documentation (of course for the VRP version described by Huawei as HCIE-current). I went through it twice, in some cases even three times. I knew then exactly how (on high level) to configure each feature available and where to find the configuration commands (on low level). The HedEX documentation is available for you during the whole lab exam! Without it it can be difficult to pass and using it without knowing its structure by heart, you will run out of time for sure. If you're preparing for HCIE lab exam, spend most of the time on the HedEx and some time in CLI. HCIE training materials may be useful, but do not spend much time on them, focus on the videos. I found them very good compared to INE, CBT nuggets and Juniper webinars, however, for me the pace in the video has always been a little too slow.
HCIE interview exam
A day or two after receving the passing score report I got contacted by Huawei Learning team to schedule an interview. Luckily it could be done remotely - an online meeting and it takes just one hour. It's just important that you take a seat in a quite place and no one disturbs you during this session. Moreover, you need to have your webcam up and running, so the interviewers see you and your neighborhood. However, normally you won't see them. video-cast is one-way only.
You may expect a basic and general 2-3 questions and you are to select the order of answering them. Once you finish your explaination of a question, you are challenged with providing more details of a particular case. the questions within a single topic are getting more and more detailed. Eventually the interviewer will tell you that he has no more questions, so you may answer the next "general" question.
After few days I got another score report, saying that I passed the interview and I'm officially HCIE R&S certified
I did not prepare at all for this one. I knew that either I already have all the required knowledge, or I simply do not deserve to be the true expert.
The award
Already last year I got official information on how Huawei rewards their new HCIE:
Annual HCIE Summit in WEU region (last year in Amsterdam, this year in Romania)

For individual passing the HCIE exams: the latest and greatest Huawei phone (on time only)

CSP company, USD 5000 gift card

CSP discount based on CSP level

Free training opportunities and free vouchers
This year (April 2019) I also benefited from this offer and got Huawei P20 smartphone 
 That's very kind IMHO. Besides the phone, I got the plaque-set. Here are some pictures: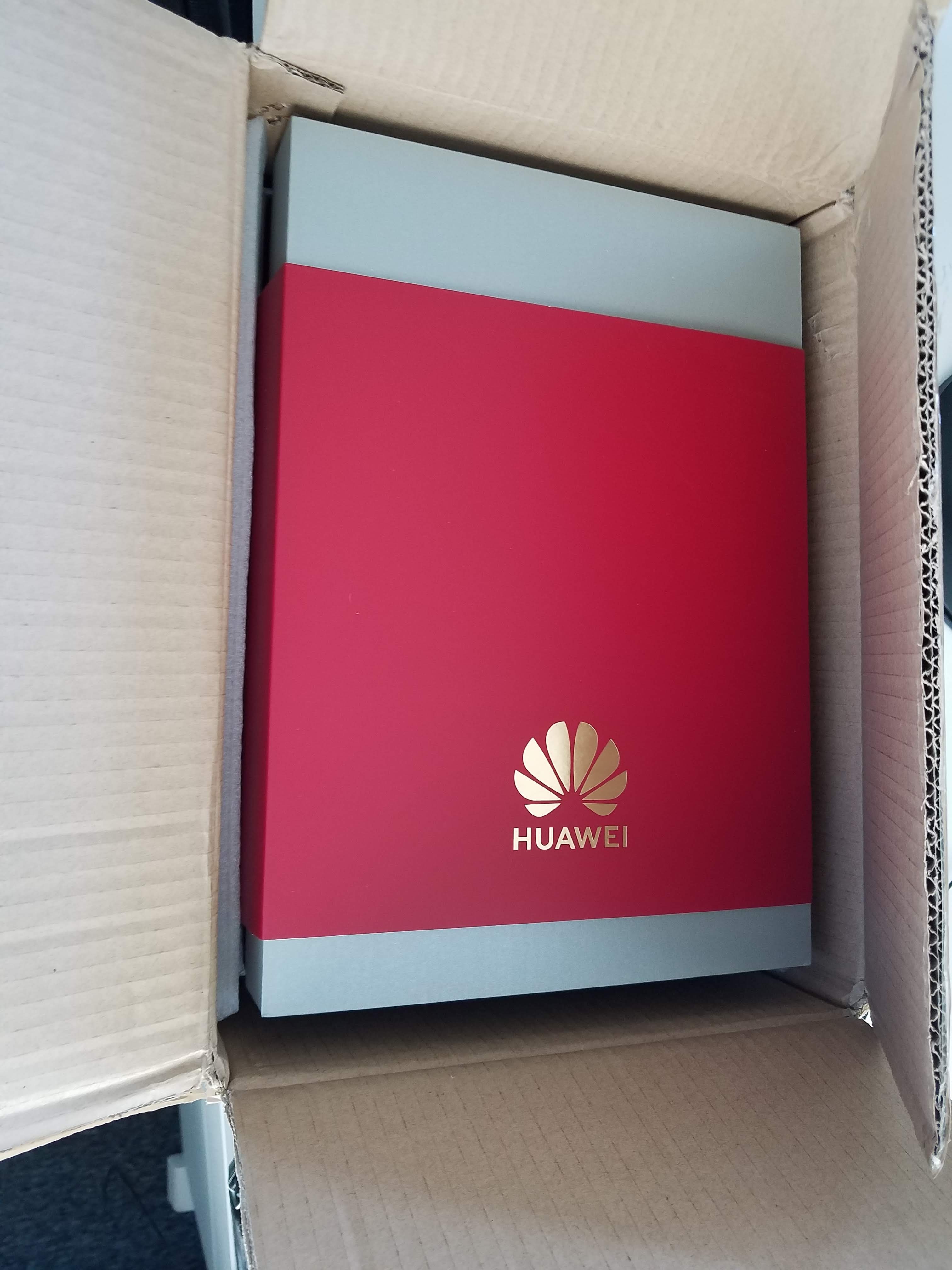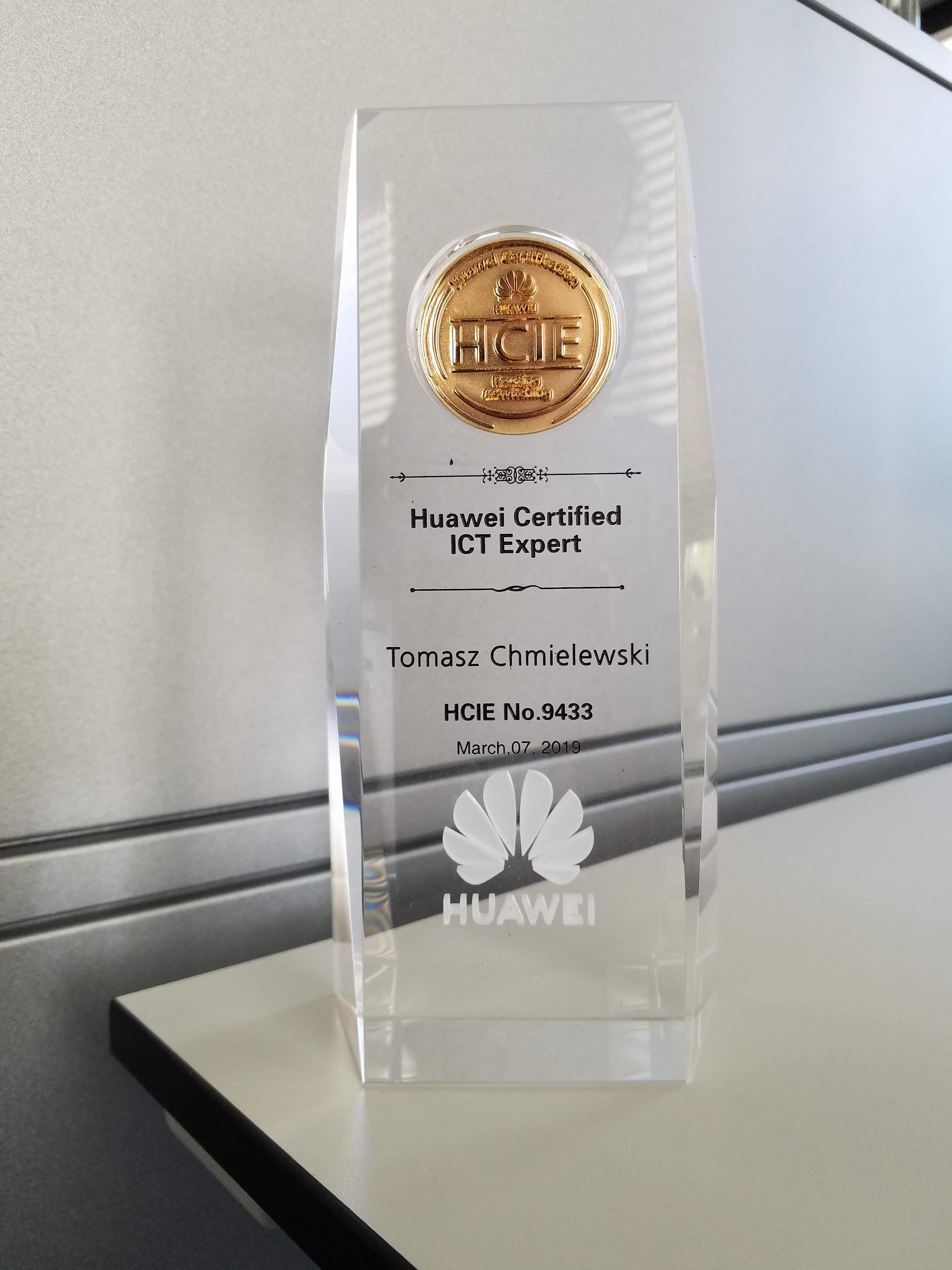 Final Remarks
Look for upcoming LVC (Live Virtual Class) in the area of your interest. I took part in two such classes in 2018 – one about preparing for the lab, the other for interview HCIE R&S exams. You can get there much non-technical information about the exams.

I found VRP very similar to the Cisco IOS (the old-style one) with some enhancements. It's said that it's a single operating platform for various platforms, however in my opinion even though the software name is the same – there are sometimes so big differences between the behavior of software images.