HCIE Badge Earner Guide
HCIE Badge Overview
HCIE badges recognize the technical skills and achievements of each HCIE certification holder as well as underline HCIEs' tireless pursuit of technologies in the field of ICT.
Huawei is happy to offer badges to HCIE certification holders based on Acclaim, Credly's digital badging platform. Effective HCIE certification holders will receive an official notification to accept their HCIE badge from Acclaim. Through badging, Huawei hopes to enhance the identity of HCIE experts with a digital version of their credentials.
Advantages of an HCIE Badge:
•      Easily manage and share your learning achievements.
•      Employers and peers can verify your achievements and learn more about your abilities in real-time.
•      Access promotional offers and learning pathways available only to badge earners.
Badge Application Process
(1) After passing all HCIE exams and obtaining the certificate, you will receive an application email for the HCIE digital badge from Acclaim.
(2) Register for the account on Acclaim. After the account is created successfully, you will receive a confirmation email, and log in to Acclaim.
(3) After accepting the badge application, you can start to share your badge.
At present, the following HCIE certifications can be applied for HCIE digital badges:
HCIE-Routing & Switching
HCIE-Cloud Computing
HCIE-Storage
HCIE-Security
HCIE-Data Center
HCIE-Big Data-Data Mining
HCIE-Transmission
HCIE-Enterprise Communication
HCIE-Cloud Service Solutions Architect
HCIE-Intelligent Computing
How to apply for HCIE badge
1. After obtaining your HCIE certificate,you will receive an email from Acclaim(admin@youracclaim.com) that look like this:
Note: Please check your spam or junk mail filter if you do not receive the mail in your inbox.
Click on the Accept your badge button, this will take you to Acclaim where you will create an account.
2. The first time you log in to the Acclaim platform, you will be prompted for account registration and complete the relevant information (Note: It is recommended to fill in the real name, which is consistent with the name on the HCIE certificate). Users with existing accounts will be prompted to log in for badge applications.
3. Once you sign in to your account, you will be able to claim your badge.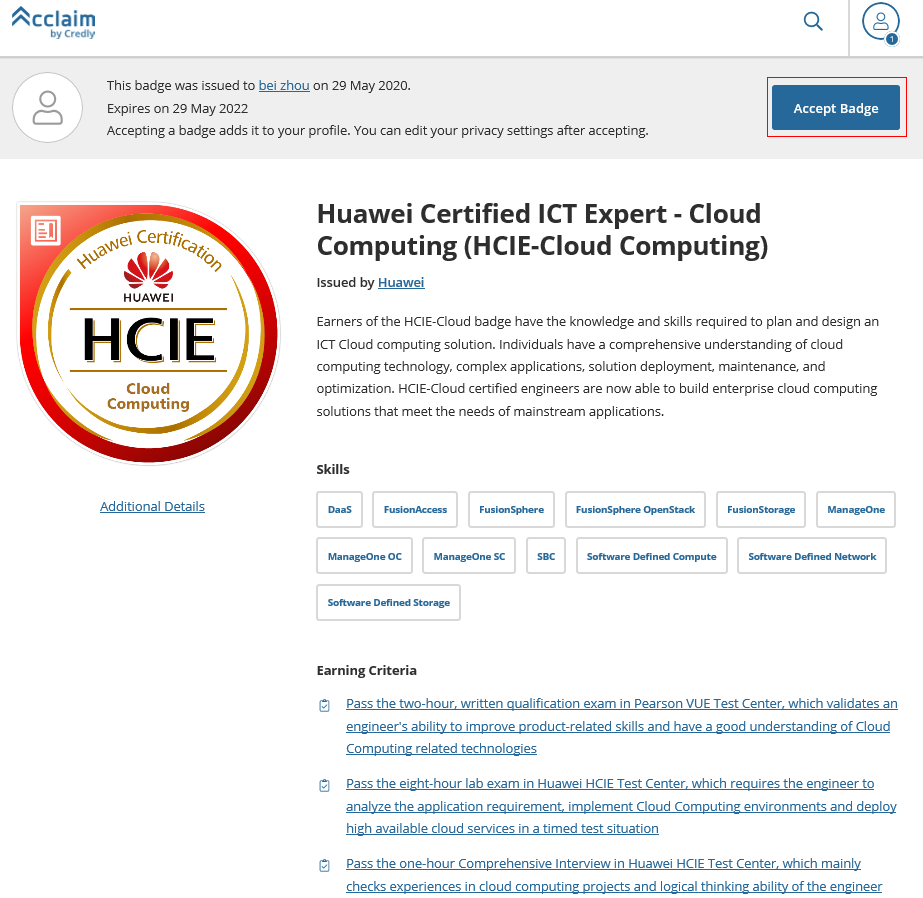 4. Share your badge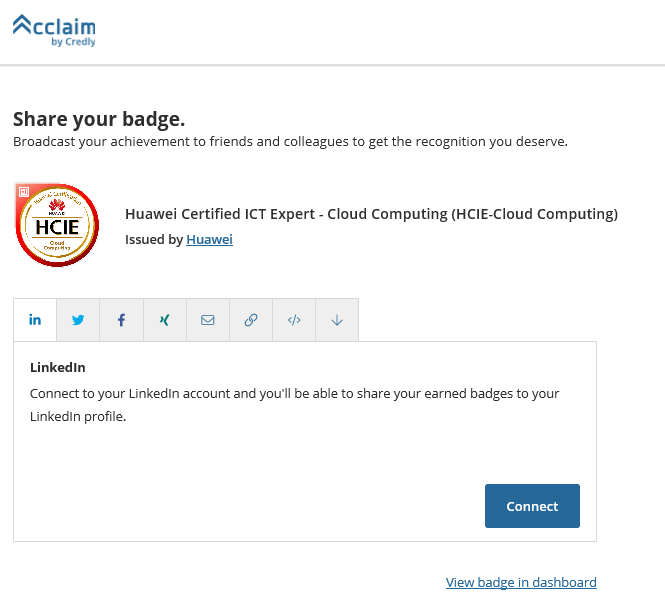 There are eight ways to share HCIE badges:
1. LinkedIn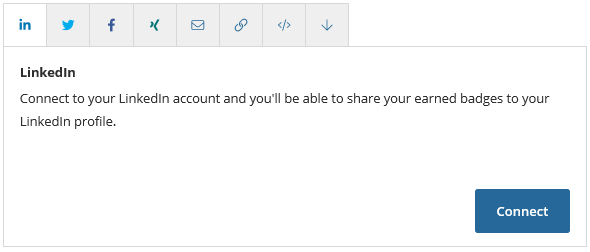 2. Twitter
3. Facebook
4. Xing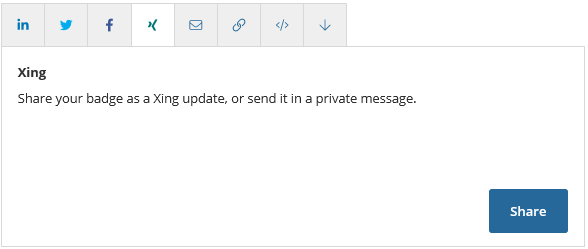 5. Email
6. Share a link
7. Embed Code
8. Download Badge
Acclaim Badging FAQs
Q. What is a digital badge?
A. Digital badges are web-enabled versions of a credential, certification or learning outcome.
Q. What is Acclaim?
A. Acclaim is a digital badging platform backed by Credly. Acclaim has issued millions of badges from reputable organizations for career-advancing achievements that help individuals move forward professionally.
Q. What are the benefits of a digital badge?
A. Representing your credential as a badge gives you the ability to share your abilities online in a way that is simple, trusted and can be easily verified in real time. Badges provide employers and peers concrete evidence of what you had to do to do earn your credential – and what you're now capable of.
Q.HCIE Badge Application Object
A. Effective HCIE certification holders can obtain the HCIE badge by applying.
Q. How does my credential get displayed as a badge?
A. We have partnered with Acclaim, a badging platform backed by Credly, to translate the learning outcomes you've demonstrated into a digital badge. The technology Acclaim uses is based on the Open Badge standards defined by Mozilla and enable you to manage, share and verify your credential digitally.
Q.  How will I know if I've earned a badge?
A.  You will receive an email notification from admin@youracclaim.com with instructions for claiming your badge and setting up your account for managing, sharing and verifying your certification.
Q. When will I receive the badging notification emails?
Those who gets HCIE certification will receive their digital badge from Acclaim in 7 working days after they receive the Huawei electronic certificate.
Q. Is there a fee for using Acclaim?
A.  No. Using Acclaim to manage, share and verify your credentials is free to badge earners.
Q.  What's to keep someone else from copying my badge and using it?
A.  While badges are simply digital image files, they are uniquely linked to data hosted on the Acclaim platform. This link to verified data makes them more reliable and secure than a traditional paper-based credential. It also eliminates the possibility of anyone claiming your credential and your associated identity.
Q.  Where and how can I share my credential through Acclaim?
A. Every credential and profile on Acclaim has a unique URL that can be shared from the platform to LinkedIn, Facebook and Twitter; via email, embedded in a website or on a resume. You can also add your badge to an email signature.
Q. I should have been issued a badge, but never received a notification email. How can I get my badge?
A. Contact hcie@huawei.com, and be sure to add hcie@huawei.com to your email's safe sender list.
Q. I have a question about the Acclaim platform. Where can I find support?
A. You can find answers to many frequently-asked questions here: http://support.youracclaim.com/