Hello everyone,
Today I will share with you how to capture DSP media for AR series router(V2R7, AR series with MindSpeed DSP).
DSP capture is the final method for the troubleshooting of analog voice issues. It can capture the analog media flow, Modem signal, or fax signal, pack them into IP packets, and redirect to the capture server. As soon as the server gets the packets, RnD will analyze the packets by using professional software. Finally, we can get two-direction media to flow sent/received by the DSP module, to that confirm the issue origin.
Working topology
Procedure:
1. Install Wireshark on PC to capture the packets received from local interface.
2. Configure local IP on PC, and ensure it is reachable with AR's voice service IP address.
a) On the AR configure a new Vlan and Vlanif interface to allow Vlan inter- routing with the Voice Service IP (e.g Vlan 120).
Huawei> system-view
[Huawei] vlan 120
[Huawei-vlan120] quit
[Huawei] interface vlanif 120
[Huawei-Vlanif120] ip address 192.168.0.1 255.255.255.0
[Huawei-Vlanif120]quit
[Huawei]interface Ethernet 0/0/1
[Huawei-Ethernet0/0/1] port link-type access
[Huawei-Ethernet0/0/1] port default vlan 120
b) Configure the IP address 192.168.0.2 and mask 255.255.255.0 on the PC.
c) Validate that PC can ping the voice Service IP 172.16.0.1 
3. Configure mandatory capture configuration on target FXO port (For details please refer to the next section).
Configuration
Enter the mandatory command to activate internally command lines.
[AR]voice
[AR-voice]sipserver
[AR-voice-sipserver]reg-count-per-second 10
Configure mandatory parameters for remote capture.
[AR]voice
[AR-voice]diag
[AR-voice-vdiagnose]remote-capture server-ip 192.168.1.2 udp-port 9999 source-ip 172.16.0.1
[AR-voice-vdiagnose]remote-capture trace port 1/0/4 base enable
P.S: Server IP (PC ip) and Source IP (Voice Service IP) must be reachable with each other.
Note:  Service-ip is IP address of PC. Source-IP is voice source IP of AR.
Set the FXO port which should be captured.
Establish calls

If UDP flow with destination port value eq 9999 can be captured from Wireshark on PC, it means the analog media flow is successfully redirected to PC. Then save the Wireshark file, and provide it to RnD for following deep analysis.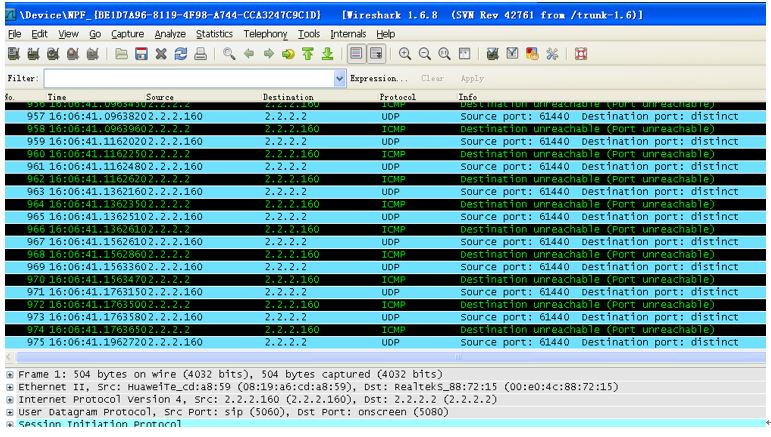 Analysis procedures
1. Open the packet file with Wireshark, and save it as '.pcap'.
2. Open the file with Beethoven , then click Extract->Extract Unified Diag over IP/UDP to generate a '.cap' file.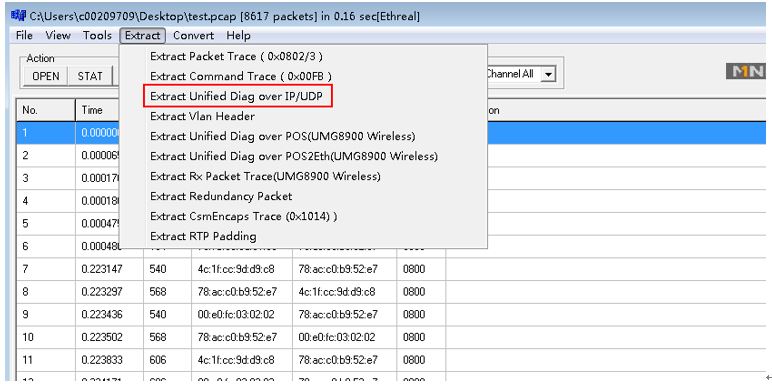 Open the '.cap' file with Beethoven, then click STAT.
4. Open the two files with Cool Edit, and directly listen to them.
That is all I want to share with you! Thank you!