Definition
Wireless backhaul refers to wireless bridging between APs or between APs and ATs.
Application
On a WLAN, wireless backhaul is applied to Mesh and wireless distribution system (WDS) networking modes. Mesh and WDS technologies can be used to quickly set up a WLAN in complex environments such as metro, tunnel, wharf, and emergency communications.
A WDS connects two or more wired or wireless LANs using wireless links to establish a large network. Wireless bridging among the root AP, repeater APs, and leaf APs is the application of wireless backhaul, as shown in Figure 1.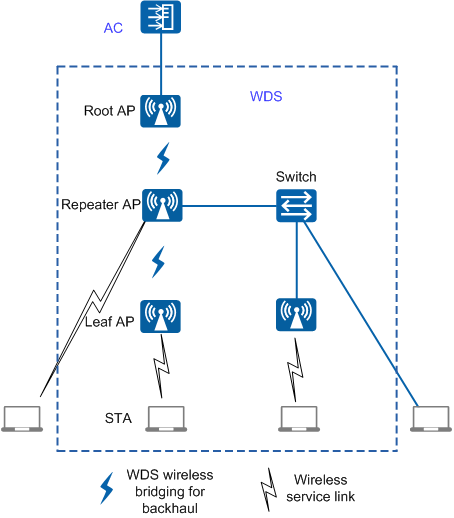 A Wireless Mesh Network (WMN) is a communications network that consists of multiple wirelessly connected APs in a Mesh topology. Points on a WMN can automatically establish a topology and maintain mesh connectivity. Mesh links between the Mesh Portal Point (MPP) and Mesh Points (MPs) are the application of wireless backhaul, as shown in Figure 2.
MP: a Mesh-capable node that uses IEEE 802.11 MAC and PHY layer protocols for wireless communication. An MP supports automatic topology discovery, automatic route discovery, and data packet forwarding. MPs can provide both Mesh and user access services.

MPP: a Mesh point that connects the Mesh network to other types of networks. The MPP provides the Portal function to allow Mesh points to communicate with external networks.