Exclusive access to preview a new one-stop shop for product information - Info-Finder! [Beta testing invitation]
Best contribution prize(1)
Amazon gift card (US$100)
Outstanding contribution prizes(4)
Amazon gift card (US$50)
To improve the speed and accuracy of documentation searches on the Huawei support-e website, this June we are launching a new one-stop shop for product information: Info-Finder. We invite you to preview this new function by participating in a beta testing, and we hope that you will give us your valuable feedback and suggestions. PS: In the beta phase, Info-Finder will only cover products of the Network product line.
So, what is Info-Finder? What will it help us to do? We've whipped up a video below to get you started!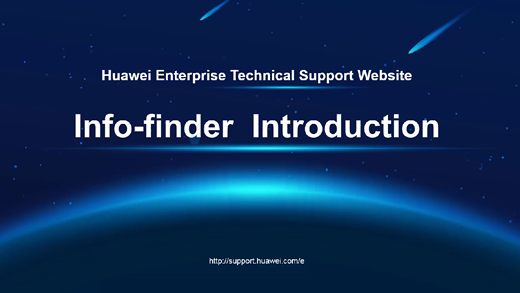 (Click here to watch the usage guide for more functions.)
When is Info-Finder beta testing time?
Date: June 11 – June 30
Time: 10-15 mins timeslot at your convenience
Who can join the beta testing?
• Huawei customers, partners and engineers who volunteer to join the test
• Members of Huawei Product Documentation Advisory Committee (PDAC)
What will I be doing in this test?
• After entering the testing page, you will need to follow the steps and instructions on screen to complete several short online tasks.
What do I need to prepare?
• A computer / laptop with internet access
What's the prize of the test?
• For participants who complete the testing successfully, Huawei experts will award 60 -100 points, depending on the feedback and the value of suggestions.

• Huawei experts will award participants contribution prizes: one best contribution prize with a $100 Amazon gift card and four outstanding contribution prizes each of which with a $50 Amazon gift card.
By clicking the Accept button, you are agreeing to the terms and conditions in accordance with Huawei's Privacy Policy

Copyright © 2019 Huawei Technologies Co., Ltd. All rights reserved