Hi everybody! Do you know much about the difference between Raid And Jbod?
JBOD (abbreviated from "Joint Batch Of Disks" or colloquially "just a bunch of disks/drives") is an architecture using multiple hard drives exposed as individual devices. Hard drives may be treated independently or may be combined into one or more logical volumes using a volume manager like LVM or mdadm; such volumes are usually called "spanned" or "linear | SPAN | BIG". A spanned volume provides no redundancy, so failure of a single hard drive amounts to failure of the whole logical volume. Redundancy for resilience and/or bandwidth improvement may be provided, in software, at a higher level.
RAID: "Redundant Array of Inexpensive Disks"
Follow the links below to learn more about RAID
RAID vs JBOD
RAID is a method of spreading data between hard disks. In most RAID types, pieces of one file are scattered onto different disks. This provides a major speed boost and also provides protection against disk failure. Conversely, JBOD, which stands for "Just a Bunch Of Disks", is how most people store data. JBOD means that your data is on single, stand-alone hard drives. If a one of your JBOD disks fails, the data on that disk is probably lost.
Both RAID and JBOD have their place. Each can be successfully implemented into your data storage and backup strategies.
It's important to know that all the hard drives in a RAID set will be seen as one single disk volume by your computer system.
JBOD drives are individual drives, meaning that each drive in your system is seen by your computer as an individual disk volume. JBOD drives allow you to easily add additional storage to your system - just connect another drive - and allows for easy to manage, and less expensive backup solutions.
RAID: 
o   Fault-tolerant grouping of disks that server sees as a single disk volume
o   Combination of parity-checking, mirroring, striping
o   Self-contained, manageable unit of storage
JBOD: 
o   Drives independently attached to the I/O channel
o   Scalable, but requires server to manage multiple volumes
o   Do not provide protection in case of drive failure
Enabling JBOD
To ensure that the disks on the server can be used properly, you need to configure the RAID cards to the RAID mode and enable the JBOD function when the server uses some RAID cards.
Procedure
 1.    Log in to the BMC system of the server.
 2.    Check the model of the RAID controller card to be installed.
Choose Information > System Info > Storage > Views, select RAID Card, and view the Type information in the right pane.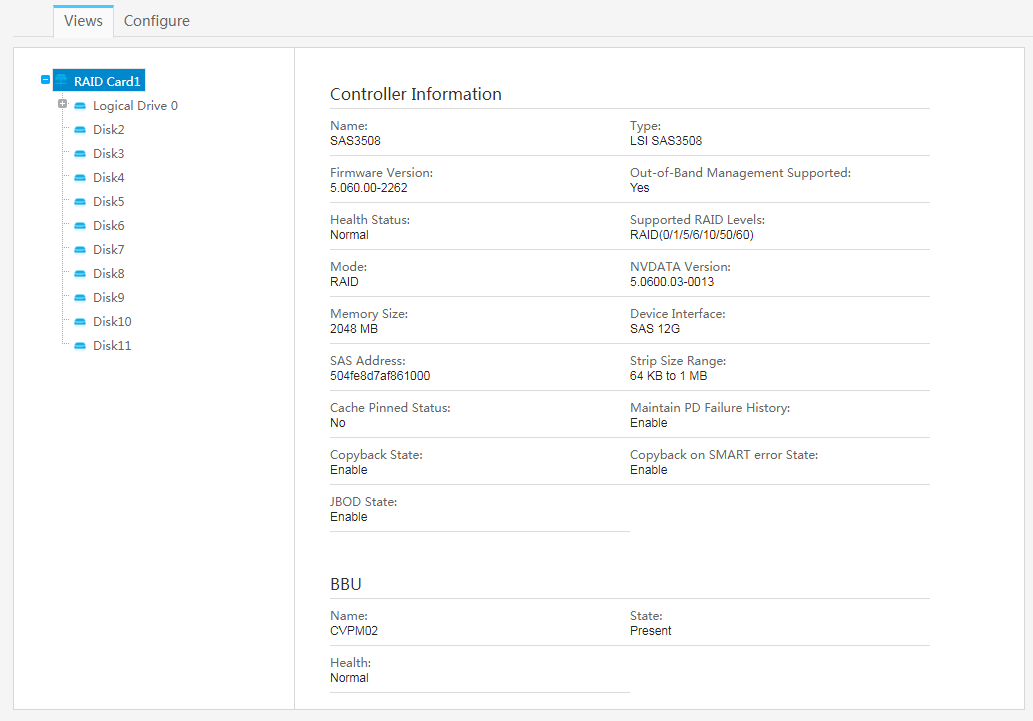 ·        If the RAID controller card model is the one that requires configuring JBOD in Huawei Storage Interoperability Navigator, go to 3.
·        If the RAID controller card model is the one that does not require configuring JBOD in Huawei Storage Interoperability Navigator, skip this step.
 3.     Select a RAID controller card and set JBOD for the controller.
a. Choose Information > System Info > Storage > Configure, and click 

 next to RAID Controller.
         b. Set JBOD State to Enable.
 Please feel free to ask us any questions!