Authorized reprint by author zhushigeng (Vinsoney)

1. Technical Background
 

Assume that you are an administrator of a network. To manage the network, you need to know the running status of each network device and be informed of key events occurring on network devices. SNMP can be used to implement these functions.
As network services develop, the number of devices on existing networks is increasing, and these devices are far away from the central equipment room where a network administrator is located. If faults occur on these devices, it is impossible for the network administrator to detect, locate, or rectify the faults immediately because the devices do not actively report the faults. This affects maintenance efficiency and greatly increases maintenance workload.
SNMP is an application layer protocol that defines how management information is transmitted between a network management station (NMS) and devices. SNMP defines several operations on the NMS and allows devices to proactively send traps to the NMS if faults occur. Using SNMP, an NMS can remotely query the device status, and devices can send traps to the NMS when a specific type of event occurs.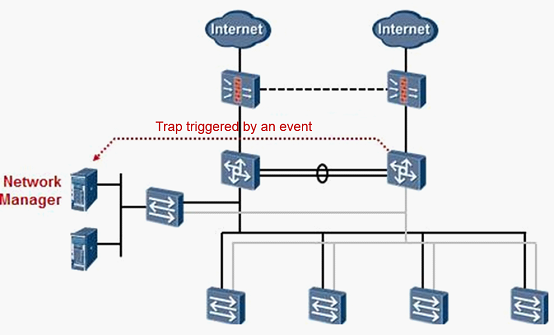 An SNMP-managed network consists of three key components: NMS, agent, and managed device. The following describes the SNMP components, management information base (MIB), and operations in detail.


2. Overview of SNMP

SNMP a standard network management protocol widely used on TCP/IP networks. It uses a central computer (that is, an NMS) that runs network management software to manage network elements. Three SNMP versions are available: SNMPv1, SNMPv2c, and SNMPv3. Select one or more versions if needed.

MORE: