To address the challenges facing data center networks, Huawei CloudFabric DCN Solution (referred to as CloudFabric solution) aims to build agile, intelligent, ultra-broadband, and open cloud data center networks for customers.

The CloudFabric solution uses industry-leading CloudEngine (referred to as CE) series data center switches, Agile Controller, and FabricInsight as core components. Based on a service-oriented open architecture, the CloudFabric solution provides three fabric capabilities: high availability fabric, artificial intelligence fabric, and multi-DC fabric. This helps customers build next-generation cloud data center networks to support long-term evolution of enterprise cloud services in data centers.

The following figure shows the logical architecture of the CloudFabric solution.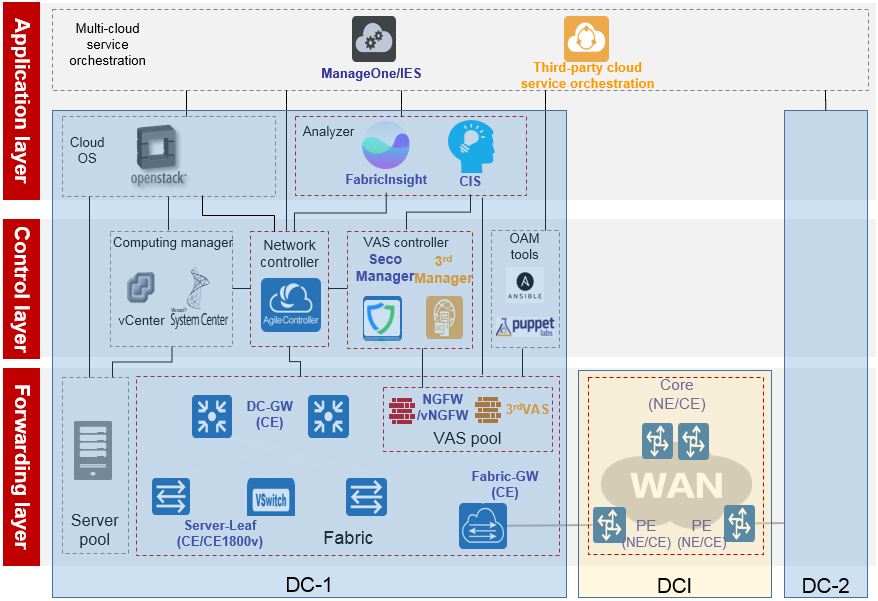 Application Layer
Multi-cloud service orchestration: usually private cloud orchestration portal (for example, ManageOne) and carrier telecom cloud orchestration portal.

CloudOS: OpenStack-based cloud operating platform, such as open-source OpenStack and Huawei FusionSphere. CloudOSs collaborate to manage computing, storage, and network resources.

Analyzer: uses the FabricInsight to analyze the network and application health status of a data center network to quickly detect and locate faults; uses the Cybersecurity Intelligence System (CIS) to perform threat analysis and detection on traffic to prevent user information asset loss caused by Advanced Persistent Threat (APT) attacks.



Control Layer
Computing manager: implements virtualization and resource management at the computing layer. Common computing managers include the vCenter and System Center.

Network controller: centrally manages cloud data center networks, and provides automatic mapping from applications to physical networks, resource pooling, and visualized O&M, helping customers build service-centric dynamic network service scheduling capabilities. The Agile Controller-DCN functions as a network controller.

VAS controller: implements centralized security policy management and control for firewalls, monitors events in real time, comprehensively analyzes security events such as attacks, and provides extensive statistical reports, helping users understand the network security status at any time. The SecoManager functions as a VAS controller.



Network devices


Huawei CE series switches are high-performance cloud switches designed for next-generation DCs. The series includes Huawei's flagship CE12800 core switches and CE7800, CE6800, and CE5800 high-performance aggregation and access switches. These switches provide extensive DC and campus service features.

Huawei CE1800V virtual switch is an intelligent software switch designed for virtualization environments of enterprise and industry DCs. It can run in KVM environments and support virtual switching and functions, such as Layer 2 switching, VLAN access, and NSH.

VAS devices


Huawei NGFW or vNGFW provides NAT, VPN, virtualization, and multiple security features for DCs.

The F5 LB provides flexible load balancing services for DCs.

Traffic diversion to third-party VAS devices can be configured to support third-party VAS devices in data centers.
 Learn more FAQs, see:https://support.huawei.com/enterprise/en/switches/cloudfabric-pid-22604572.