【Problem Description】
NA and VRM communication issue Through the Switch
VRM is 10.7.0.105 and one cna IS 10.7.0.115 FROM BOTH  ican ping the gateway and from the CNA i can ping the VRM but from the VRM i cannot ping the CNA
gateway is 10.7.0.1
CNA and VRM are insame network with gateway 10.7.0.1 subnet /24
【Problem Analysis】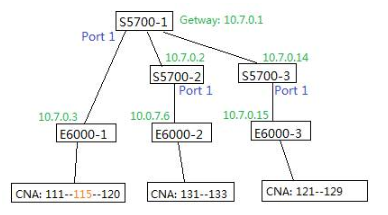 As my understanding from your description, the topology shouldbe like this that will be better understood, please help confirm whether it iscorrect or not?
And from your issue description, you cannot ping CNA 10.7.0.115from S5700-3, but can ping from S5700-1 10.7.0.1 and S5700-2 10.7.0.2, right?
If so, I want to know whether you can ping 10.7.0.111 or10.7.0.112 or others except 10.7.0.115 which also connecting E6000-1 fromS5700-3?
Also, as Mr. Mohamed descripted:
VRM is 10.7.0.105 and one CNA IS 10.7.0.115 FROM BOTH  Ican ping the gateway and from the CNA I can ping the VRM but from the VRM Icannot ping the CAN.
--- this should be like below, how about this? where is VRM? Anyrelated to your problem descripted that cannot ping from S5700-3?

【Root Cause】
in fact, this is just physical problem, the cable issue
【Solution Description】
after checked all the cables and ports again and the network issue is fixed