Telemetry is a self-closed-loop system used to monitor device performance and faults. The system includes network devices, collectors, analyzers, and controllers. The running process of each component is as follows:
1. The controller delivers sampling configurations (static configurations) to network devices, requiring the devices to report sampled data to the collector at a specified interval. For example, a device reports the traffic statistics of a specified interface every 100 ms.
2. The network devices periodically collect data and push the data to the collector. The collector saves the data to the database.
3. The analyzer reads and analyzes the data in the database, displays the data in a visualized manner or analyzes possible problems, and then adjusts the running parameters of network devices using the controller.
4. After the running parameters of the network devices are adjusted, the effect is reflected in the data sampled. The analyzer continuously analyzes the subsequent data and checks whether the fault is rectified.
Telemetry Secondary Development Guide includes the following parts: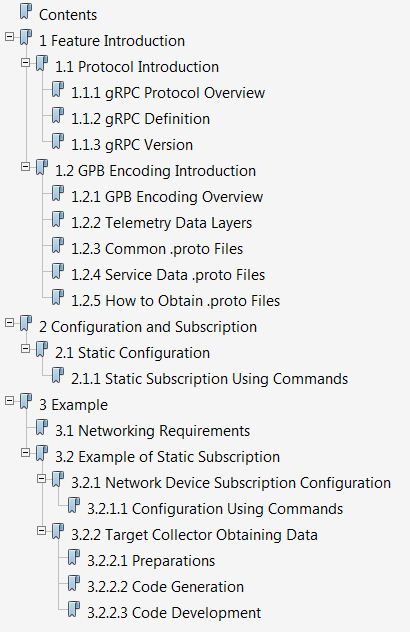 This post was last edited by CE资料 at 2018-01-18 01:03.