【Problem Description】
AR can't login via GUI by tacacs the error as follow: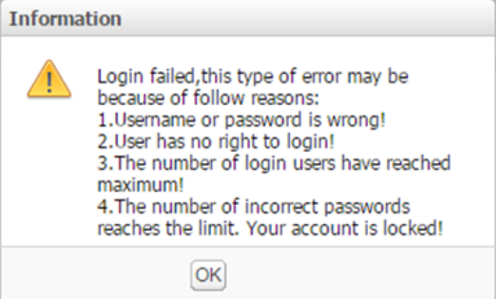 【Problem Analysis】
We have a debug to check the reason:
<HW>debugging hwtacacs all
<HW>t m
Info:Current terminal monitor is on.
<HW>t d
Info:Current terminal debugging is on.
1.       Debug from AR device four times include two times http login andtwo times ssh login.After check the debug logs we found there have something difference with Privlevel detail as follow:
Http login logs

Ssh login logs

Service=shell Protocol=http
MutilinkMax=0 MultilinkCurrent=0
DisconnectCause=0 DisconnectCauseExtend=0
PacketIn =0 ByteIn=0
PacketOut=0 ByteOut=0
ElapsedTime=0
NasRxSpeed=0 NasTxSpeed=0
TunnelID=0 TunnelConnectionID=0
Command= Event= Reason=
Privlevel=0

Service=shell  Protocol=ssh

  MutilinkMax=0  MultilinkCurrent=0

  DisconnectCause=0  DisconnectCauseExtend=0

  PacketIn =0  ByteIn=0

  PacketOut=0  ByteOut=0

  ElapsedTime=0

  NasRxSpeed=0   NasTxSpeed=0

  TunnelID=0  TunnelConnectionID=0

  Command=  Event=  Reason=

  Privlevel=15
2.       If the authorization privlevel is 0 the web login will be reject by device, So we have change the authorization privlevel to 15 in third-part device
3.       After change done we have test and verify that the AR can be login success now.
【Root Cause】
Configuration wrong in third-part device
【Solution Description】
If the authorization privlevel is 0 the web login will be reject by device, So we have change the authorization privlevel to 15 in third-part device