【Symptom】
An RH2288 V3 automatically restarts.
【Key Process and Cause Analysis】
According to the SEL, PSU 2 alarms are generated and cleared, and no other hardware alarm is generated.
According to the Current_event log, the system is in a healthy state.
No hardware exception is recorded in FDM and maintenance logs.
The last screen is a blue screen: "modification of system code or a critical data structure was detected."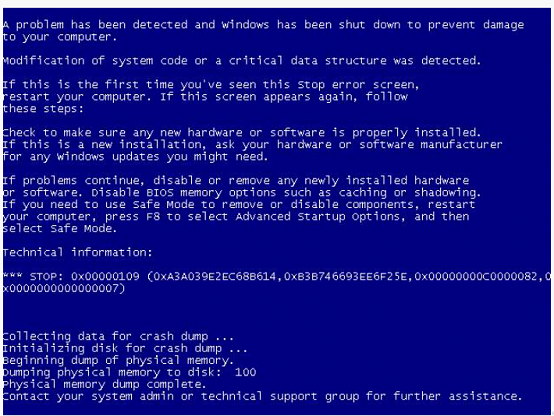 Conclusion and Solution
No hardware fault occurs.
Suggestions:
1. If software or drivers are installed before the problem occurs, remove them.
2. Press F8 to enter the safe mode to restore the system, and scan for and remove any virus.
3. If the problem persists, contact Microsoft for analysis.
The problem is solved after step 2 is performed.
Experience
In case of a Windows blue screen, check software first and then hardware. You are advised to locate the root cause based on the code and error description on the blue screen. NoteNone