A:
1.      1. A stack cannot be set up among switch models of different switch series but can be set up among some switch models of the same switch series. For example: a stack cannot be set up among the S5700 and S6700 or among the S5700LI and S5720LI. A stack can be set up among the S5720-P-LI, S5720-TP-LI, and S5720-X-LI models of the S5720LI series but not among the S5700-P-LI, S5700-TP-LI, and S5700-X-LI models of the S5700LI series.
2.      2. Since V200R011C10, switches can set up a stack using service ports through dedicated stack cables.
3.      3. Stack ports and stack cables must meet the software and hardware requirements.
4.      4. It is recommended that the number of member switches in a stack not exceed the recommended value.
For more precautions, see Product Use Precautions.
Step 1: Log in to the enterprise technical support website at http://support.huawei.com/enterprise/en/index.html.
Step 2: Click Switches.
Step 3: Click the name of the product to be queried, for example, S5700.
Step 4: Choose Recommended to find the Product Use Precautions for your switch model.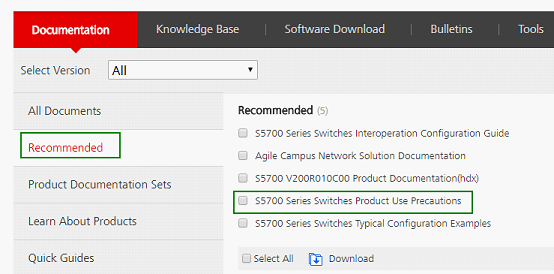 Step 5: Click Product Use Precautions, and choose Device Management. In the right pane, select the stacking support for your switch series.
This post was last edited by All_About_Switch at 2018-05-18 03:19.