A:
View stack configurations: Stack configurations are not recorded in the configuration file. Therefore, you cannot run the display current-configuration command to obtain stack configurations from the configuration file. You can run the display stack configuration command to view stack configurations.
Delete stack configurations: Run the reset stack configuration command to delete all stack configurations. The configurations include: switch slot ID, stack priority, stack reserved VLAN, stack MAC address switching delay, stack port configuration, and stack port rate configuration. If you only need to delete the stack port configuration, run the shutdown interface command in the logical stack port view to disable physical member ports, and then run the undo port interface enablecommand to delete the stack port configuration.

For more details, see the Device Management Commands.
Step 1: Log in to the enterprise technical support website at http://support.huawei.com/enterprise/en/index.html.
Step 2: Click Switches.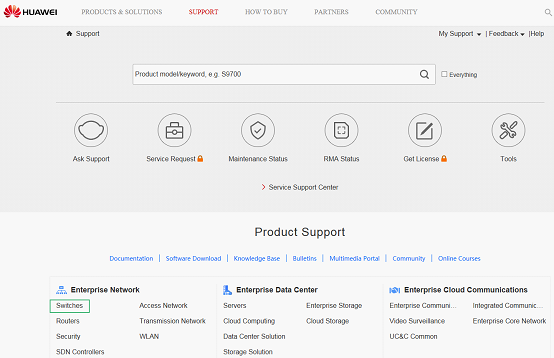 Step 3: Click the name of the product to be queried, for example, S5700.

Step 4: Choose Product Documentation Sets > Downloadable Product Documentation Package to find the documentation package of your switch model and version.
Step 5: Click the product documentation, and choose Reference> Commands Reference > Device Management Commands > Stack Configuration Commands to view all stack commands.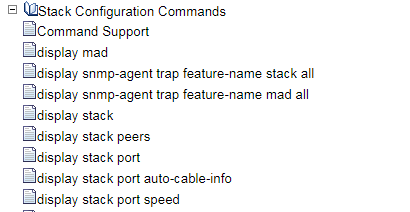 This is what I want to talk about/share with you today, thank you!