Hello everyone,
Today I will share with you packets forward in a stack.
A stack externally acts as a single device. You can manage the stack only through the master switch. Control packets need to be sent to the master switch for processing. Data packets can be directly forwarded by each member switch based on delivered forwarding entries. When Layer 3 packets are forwarded by the stack, the number of hops that the packets pass through increases by only 1.
For details, see the section "Principles" in the Stack Configuration Guide.
Step 1: Log in to the enterprise technical support website at http://support.huawei.com/enterprise/en/index.html.
Step 2: Click Switches.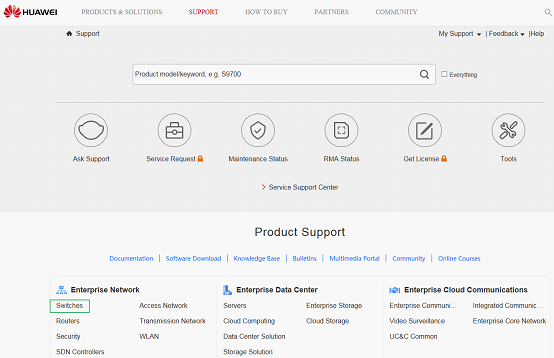 Step 3: Click the name of the product to be queried, for example, S5700.
Step 4: Choose Product Documentation Sets > Downloadable Product Documentation Package to find the documentation package of your switch model and version.
Step 5: Click the documentation package, and choose Configuration> CLI-based Configuration Guide > Device Management Configuration Guide > Stack Configuration to view the section "Principles."
 That is all I want to share with you! Thank you!