Lots of ISPs have the need to aggregate 10GbE ports to compose bigger channels because 40GbE interfaces have limitations of reaching up to a maximum of 40Km, but on 10GbE ports we can reach up to 100Km without problems.

To mount your MAN, lots of ISPs use MPLS with Huawei switches of S57xx or S67xx series, due to its excellent cost x benefit relation.
Problem
The equipment of S57xx or S67xx series has a chipset that realizes the traffic load-balance based on flow, differently of routers, that per default support load-balance by packets. With that, we have a problem when using aggregated interfaces, because the equipment that only does the MPLS transit (Router P) doesn't see the content of packets, following the RFC specifications. This way it doesn't matter if there are multiple different origins and destinations inside a unique L2VPN, to all P routers all of the content will be only one flow, that the load-balance algorithm will redirect all the traffic to only one 10GbE Interface.
For this feature presented, we have a bigger inefficiency on the load-balance, doing that on some moments occur saturation on some enlaces that compose the Eth-Trunk.
Problem Exemplification:
On an ISP, we have the scenario below, where each hop has a link composed by 12 ports of 10GbE, creating a channel of 120Gbps. Below a simplified draw of the environment:
We have two L2VPN (VPWS/L2VC) that originated on R1 to R5 and observed that between R2-R3, R3-R4 and R4-R5 the Eth-Trunk was unbalanced.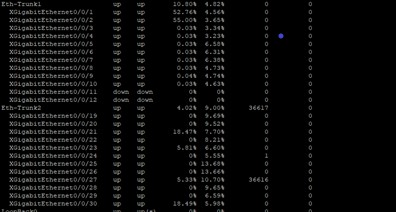 Solution
After the launch of S6720-HI and S6730-H, using the version R012 or newer of VRP was implemented a new function called Flow Label-Based. This function permits that the originator PE creates a third label on the packet to identify different content inside the same L2VPN, making it possible to the P router a tool to decide which cable will receive each different flow inside the same L2VPN.
On the PE router we need to configure these commands:
[R1] Interface Vlanif 1302
[R1-Vlanif1302] mpls l2vc 10.10.10.1 1302
[R1-Vlanif1302] mpls l2vpn flow-label both
[R5] Interface Vlanif 1302
[R5-Vlanif1302] mpls l2vc 10.10.10.5 1302
[R5-Vlanif1302] mpls l2vpn flow-label both
On the P routers we need to configure these commands:
[R2] load-balance-profile LAG
[R2] mpls field top-label 2nd-label 3rd-label sip dip sport
[R2] Interface Eth-trunk 1
[R2-Eth-Trunk1] load-balance enhanced profile LAG
After these configurations on all P routers in the path, we could observe a great improvement in the traffic load-balance between the 12 ports.