Play over New Platform & Rules to Win MATE 10
DXXXtator
Silver
(1)
10 months 17 hours ago View: 8669 Reply: 42
~~~~~~~~~~~~~~~~~~~~~~~~~~~~
SPECIAL Christmas Event is online
1.Login Wireless Network Information Center to get 10000pt in Dec.(Point will be given on 2017/12/08)
2.Lottery odds double during Dec.2017.
Event Link :
http://support.huawei.com/onlinetoolsweb/wireless/Info_en.jsp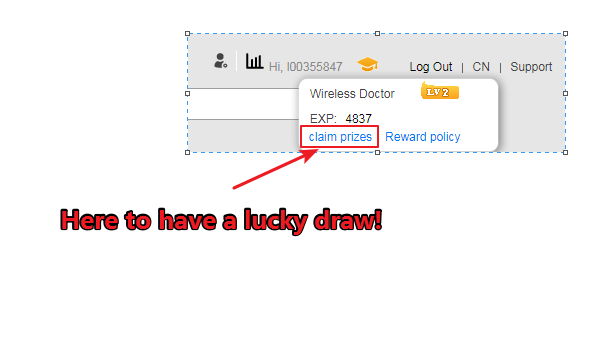 ~~~~~~~~~  Q&A  ~~~~~~~~~~~~~~
1.        Where do these activities take place?
Wireless Network Information Center only
2.        Where do I check my bonus points?
Log in to the Wireless Network Information Center using your support account to view bonus points.
3.        Why does not my bonus point increase after I click on the website?
A maximum of 1,000 bonus points can be obtained from daily clicks. This helps ensure proper rights of all users and prevent the usage of malicious software.
4.        Where can I find an input box to enter an invitation code and invite new users?
An existing user can only share an invitation code to new users. Once a new user enters the invitation code, both the existing and new users will obtain 1,000 points. Each account can only input an invitation code for only once, but can share an invitation code for multiple times.
5.        Why does the website only allow each existing user to invite a maximum of 150 new users?
This helps to prevent a malicious way to gain considerable bonus points in a short time period by sending invitation emails. This violates the intention of our activities and does harm to equality of all users.
6.        Each user can only invite a maximum of 150 users to gain 150,000 points at most. How do I acquire 300,000 points to win a MATE 10?
You have to participate in multiple activities to obtain 300,000 points, such as website logins, clicks, feedback, and special activities during holidays.
7.        How often will the prizes be supplemented?
The prizes for lucky draws are supplemented every month, but the number of MATE 10 is limited.
~~~~~~~~~~~~~~~~~~~~~~~~~~~~

WHERE CAN I GET A MATE10 ?
Log in with a support account. Move the cursor upon your profile and click Claim prizes to access the redemption page.

Q:HOW IS THIS EVENT WORK?
A:Obtain growth scores and claim prizes.
Q: How do I obtain growth scores?
A: Four methods are available.
1. Perform click and login operations.
l  Daily logins: 5 scores
l  Each click: 5 scores
l  Logins over N consecutive days: 5+N scores
l  15 or more logins within a calendar month: 500 scores
2.Participate in various activities over Wireless Network Information Center.
3. Become a contributing user of wireless documentation.
If you help organize documentation trainings or frequently propose valuable questions, you will enjoy first-hand experience and obtain a lot of growth scores as a contributing user.
4. Invite new users.
On the redemption page, you can send your invitation code to other new users. After successful input of the invitation code by a new user, both you and the new user can obtain 1000 growth scores.

Q: How do  I claim growth scores?
A: Log in to Wireless Network Information Center with a support account. Move the cursor upon your profile and click Claim prizes.

Q: How can i make a Lucky Draw or Prize Redemption
1.Read the activity rules. Check your growth scores, consumed scores, and the prize after each lucky draw.
2.Select a prize and click Lucky Draws. If you are a lucky dog, a prize winner page will be displayed.
3.Enter a valid Email address. We will dispatch prizes and notify you via Email by the end of the month.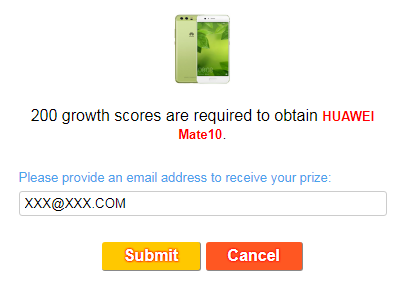 Click to experience:
http://support.huawei.com/onlinetoolsweb/wireless/Info_en.jsp
event poster:
http://support.huawei.com/huaweiconnect/thread-370899-1-1.html

*This function will be online on 2017/10/16 after you login your support account in Wireless Network Information Center .
*For more information about our website, please take a look at our promo video.
*The event is for equipment users and HUAWEI engineers, the right to interpret this activity belongs to HUAWEI wireless network documentation Dept.
*Mate10 is 64GB version.
本帖最后由 DXXXtator 于 2017-12-14 14:56 编辑
Excellent rewarding policy
Great initiative for improving document readers interest

Great initiative for keeping month long active.